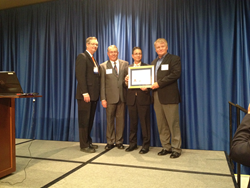 Boise, ID (PRWEB) May 08, 2014
Amy Benson, Director of the Boise U.S. Export Assistance Center of the U.S. Commercial Service, presented the U.S. Department of Commerce's Export Achievement Certificate to three Idaho Companies during Idaho's World Trade Day reception on April 30th. nextScan, a world leader in cutting-edge technology for the micrographics conversion and document management industry, was very pleased to be one of the Idaho companies honored as a recipient. These winning companies include Gibraltar Arms Inc., nextScan Inc. and Nu-Vois LLC. This award recognizes businesses that have benefited from export assistance provided by the U.S. Commercial Service that resulted in making their first export sale or expanding to new foreign markets. As part of Commerce's International Trade Administration, the U.S. Commercial Services connects U.S. companies with international buyers. The Boise Export Assistance Center is part of the Agency's worldwide network of offices located in 109 U.S. cities and nearly 80 countries worldwide. For more information on the U.S. Commercial Service, visit http://www.export.gov.
About nextScan
nextScan Inc., of Meridian, Idaho develops and manufactures both software and hardware for the digitization of microfilm and microfiche. nextScan develops all of its software and hardware locally, contributing to the innovation and intellectual property advances of Idaho and the U.S. About 40% of nextScan's sales are due to exports and this focus on international trade growth has contributed to new job creation within this Idaho Company. nextScan participated in Governor Otter's November 2013 trade mission to Russia and as a result has doubled the amount of business from Russia. In the past seven years, nextScan's international business department has increased the company's global presence to include business in 39 countries located on five continents.
nextScan is a world leader in innovation and quality products for the micrographics conversion and document management industry. Incorporated in 2002, nextScan was established to give the microfilm and microfiche conversion market a high performance alternative to existing technologies. nextScan's innovative patented products are designed and built with simplicity and functionality to increase user production and lower overall costs for scanning film and fiche.
Designed with cutting edge components – the latest in camera, lighting, image correction, NextStar PLUS and Virtual Film, nextScan's revolutionary software, nextScan products provide a full conversion solution that far exceeds the speed, functionality and return on investment when compared to other scanners in the market. With over 80 years of combined Micrographics Development experience, nextScan is proud to bring the next generation of high performance scanners and software solutions to the world.
nextScan is privately held and headquartered in Meridian, ID. http://www.nextscan.com