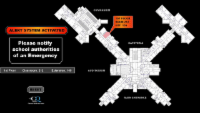 (PRWEB) May 13, 2014
Hypersign will present its explosive new applications Alert and Metrixx at the PSUG-SE in Myrtle Beach, S.C. May 12th-13th, 2014. PSUG-SE is a PowerSchool Conference put for users from district schools all over the Southeast. Hypersign is an easy-to-use digital signage solution that was designed with the user in mind. You can easily create, edit, preview, and publish content from any web browser & Hypersign does the rest.
We value the importance of saving lives by sending a message quickly when there's an emergency alert. This visual emergency messaging service integrates with your IP paging solution to showcase the evacuation route and emergency message on your digital displays.
Hypersign DropZone Apps are designed to serve specialty customers and provide them additional features they would not see in any other digital signage solutions. Performance measurement tools can help for Power School and Conference Room Scheduling.
Hypersign has partnered with the largest and most innovative display maker on the planet to bring easy to install and configure solution for AV integrators with the Samsung SSP.