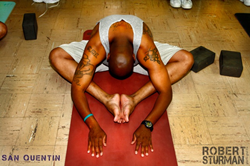 "Training more yoga teachers directly affects the success of our mission to bring yoga and mindfulness into every American prison and to imprisoned and at-risk populations worldwide." - James Fox
(PRWEB) May 07, 2014
The Prison Yoga Project trains yoga teachers how to teach in prison, including how to impart its methodology, how to relate to prisoners, and how to work with prison administrators. Demand for this Training has exploded and coincides with a similar expansion of demand for yoga and mindfulness in prisons and other rehabilitation facilities.
"We have accelerated our schedule to bring our Training to more yoga teachers which directly affects the success of our mission to bring yoga and mindfulness into every American prison and to imprisoned and at-risk populations worldwide," PYP Founder and Director James Fox, said.
Having already conducted sold-out Teacher Trainings in San Diego, Palo Alto and Los Angeles this year, James is completing plans for the Spring and Summer schedule of Trainings in Chicago May 9-11; Asheville NC June 6-8; Philadelphia June 13-14; and San Francisco July TBD. He'll be in Nairobi, Kenya September 4-13 returning to the US by way of Amsterdam, Sept. 27-28, wrapping the year in Denver, October 25-26, and New York City in November, for our fifth Training there. A more specific schedule showing dates, times and locations is posted on our website, http://www.prisonyoga.org.
Over the last three years, Prison Yoga Project has trained more than 600 yoga practitioners, most Registered Yoga Teachers, in eighteen Trainings, conducted in nine prison-intensive cities. These include New York, Los Angeles, Chicago, San Francisco, San Diego, Washington D.C., Sacramento and Denver. Smaller, cities include Austin, TX, the State Capitol and Tucson, AZ with 13 prisons nearby and offshore Trainings in Norway, Germany and Amsterdam.
Operating from San Francisco and San Quentin gives James and Prison Yoga Project a remarkable platform. San Quentin is arguably the most well-known prison in the United States and the largest in California. Along with housing California's Death Row, San Quentin is home to the most inventive and leading edge rehabilitative programs in the country.
As a result of Prison Yoga Project's highly effective Training, there are trained teachers providing yoga classes in more than 50 jails or prisons as well as scores of rehabilitation and recovery facilities in the United States; 55 teachers trained in Norway, 31 in Germany, and a workshop for 23 has been conducted in Amsterdam.
To learn more, visit: http://www.prisonyoga.org, http://www.facebook.com/prisonyoga or contact jcwhitted(at)prisonyoga(dot)org, Development Director.