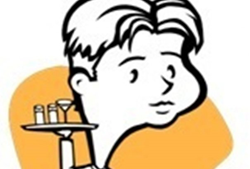 Can you identify the guilty parties?
Pine Mountain, GA (PRWEB) May 07, 2014
The ever popular Mystery Dinner Theater, a fun, engaging and delicious way to spend an evening, is returning to Callaway Gardens in May.
For those who have been missing the fun, a Mystery Dinner Theater includes a little detective work while you dine on delicious cuisine from the Callaway Gardens culinary team led by the new Executive Chef Michael Gonzalez, joining the Callaway Gardens team from Biltmore Estates. An evening of mystery includes opportunities for guests to interact with the cast. Guests selected just before the show will receive reading parts and will be cued to deliver their award-winning performances. Expect a few surprises and activities to add to the fun; plus, solving the mystery comes with token prizes for the winning team.
"Murder…On The Menu"
On Saturday, May 17, 2014, detective skills – and an appetite – will be necessary at Callaway Gardens for the Spring Mystery Dinner: "Murder…On The Menu." Guests will enjoy a delicious three-course meal and an exciting evening of interaction with a professional cast to figure out the culprit in a lively "who-dun-it" mystery. During this evening of intrigue, we find that Stewart, a waiter at Callaway Gardens, is not the most graceful waiter or the best waiter on staff. But, as far as replacing a dropped fork or refilling your water, Stewart is your man. And, although he may be a rather non-descript waiter, and person, he is about to take center stage in a murder investigation – HIS murder investigation. It's up to a crack investigation team of Inspector McMichaels and Inspector McAdams to interrogate the various suspects assembled. Interesting suspects like Stewart's ex-girlfriend, Stewart's former employer, the Conspiracy Guy, and others. One of these assembled suspects has had a hand in Stewart's murder. And it's up to McMichaels and McAdams, and those participating, to make sure that, A) the guilty party is brought to justice, and B) everyone is aware of a new menu item – the Cajun Catfish a la Orange. Mmmm-mmmm.
Can you identify the guilty parties? Reserve your May Mystery Dinner Theater overnight package today by calling 1-800-CALLAWAY (225-5292). Packages start at $130* include reception, dinner, Mystery Theater, lodging and admission to famed Callaway Gardens and its many attractions for each day of stay and day of departure. Dinner-only reservations are $79** per person. Registration is limited, so make reservations soon.
Callaway Gardens® is in Pine Mountain, Georgia, 60 minutes southwest of Atlanta and 30 minutes north of Columbus. For additional information, call 1-800-CALLAWAY or visit http://www.callawaygardens.com.
###
*Rate is per person in a Non-View Room at the Mountain Creek Inn. Offer valid May 17, 2014. Additional pricing also is available in the Southern Pine Cottages and Mountain Creek Villas. Tax not included. Based on availability. Other restrictions may apply.
**Tax and gratuity is included.
About Callaway Gardens
For more than 60 years, Callaway Gardens has provided "a place of relaxation, inspiration and a better understanding of the living world" for millions of visitors. Owned and operated by the non-profit Ida Cason Callaway Foundation, Callaway Gardens includes a garden, resort, preserve and residential community on 6,500 acres in Pine Mountain, Georgia. Highlights include a butterfly conservatory, horticultural center, discovery center, chapel, inland beach, nature trails, a zip line/obstacle course and special events throughout the year.
In addition, Callaway Gardens offers nearly 80,000 square feet of meeting space, 680 guest rooms, restaurants, shops, golf, tennis, fishing and more.
Five unique, close-knit residential communities — with custom home sites, lakefront properties and cottages on the golf course — offer an ideal home away from home or full-time residence.
Callaway Gardens is home to a forest preserve which is under conservation easement. This conserved, sustainably-managed land is used for biological studies and environmental education programs.
Mystery Dinner Theater Menu
Course One (Appetizer)
Hickory Smoked Georgia Catfish Croustillant with Deviled Egg Emulsion, Sweet Peas, Salt Cured Ham, and Blood Orange Confit
Course Two (Entrée)
Espresso Dusted Hanger Steak "Benedict" with Shiitake Leek Bread Pudding, Petite Carrots, Spring Asparagus, and Meyer Lemon Hollandaise
Third Course (Dessert)
White Chocolate Frangelico Panna Cotta with Red Raspberry and Hazelnut Crumble