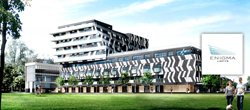 Conasys' platform will allow us to deliver an unparalleled home ownership experience
Vancouver, BC (PRWEB) May 08, 2014
Conasys, developers of a cloud-based platform designed to enhance homeowner care and communication initiatives for new home builders and developers, are pleased to announce a new partnership with Aragon Properties. The move will make Conasys' industry-leading platform available to residents of Aragon's upcoming portfolio of residential developments.
One of Canada's most innovative and forward thinking real estate developers, Aragon Properties have been constructing award-winning communities for over 25 years. In that time they have delivered over 4,000 new homes, and have become synonymous with quality, design and innovation. Now a stalwart of both the BC and Ontario real estate markets, Aragon have multiple projects scheduled for completion this year, and are set to work with Conasys to deliver their residents an innovative home ownership experience.
Conasys' interactive homeowner portal will allow Aragon's homeowners to better understand and maintain their home by giving them direct access to key home information such as warranty details, operating manuals and even paint codes. This information can be accessed from any device and includes a plethora of additional features such as maintenance reminders, warranty milestone alerts, and an innovative 1-click service request function.
The platform also includes a builder-specific portal with an equally impressive feature set, such as a full service request management system and Conasys' newly-launched deficiency app that will allow pre-delivery inspections or walk-throughs to be completed more efficiently than ever before.
It was the comprehensive nature of the platform the initially piqued Aragon's interest, more specifically how it would allow them to deliver a more complete home ownership experience. Ameet Johal, Director of Sales and Marketing at Aragon, holds the home ownership experience in the highest regard and as such is excited to implement the platform: "Conasys' platform will allow us to deliver an unparalleled home ownership experience. The information our homeowners will have access to is both relevant and detailed, and made available via an incredibly engaging and easy-to-use platform. It will encourage a better understanding of the home, which will allow our customers to better enjoy their investment."
Jerry Bauer, CEO at Conasys, is naturally delighted to be working such a distinguished new home developer: "Our partnership with Aragon is a source of much excitement for us. We have made phenomenal progress in recent months and to be working with many of the largest and most renowned real estate developers in North America is indicative of how much value the industry sees in our platform."
About Conasys: Conasys Inc. (http://www.conasysinc.com twitter:@conasys) is a forward-thinking technology company whose cloud-based homeowner care platform is designed specifically for new home builders and developers. Their industry-leading platform includes homeowner and builder specific portals that provide instant access to all the details and components of each home. Each portal includes a suite of efficiency and communication tools designed to enhance the understanding, service, maintenance, and management of individual homes. Since their inception in 2006 they have built a client portfolio of over 400 builders and real estate developers.
About Aragon Properties: Aragon Properties (http://www.aragon.ca twitter:@AragonForward) is a fully-integrated real estate developer with over 25 years' experience in building outstanding new homes in BC and Ontario. With a rich history of creating memorable developments centered on the principles of quality, innovation, and design, Aragon continues to bring unique condominiums, townhomes, and single-family houses to the dynamic Vancouver and Toronto real estate markets.