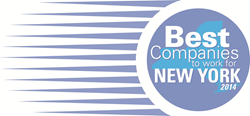 Albany, NY (PRWEB) May 07, 2014
CDPHP® is once again among the top 25 large employers in New York state. The Albany-based health plan has been ranked 23rd on the Best Companies to Work For in New York list. The rankings were revealed at an awards dinner on May 6 in Albany.
This is the sixth consecutive year that CDPHP has been chosen by the Best Companies Group, in conjunction with New York State Society for Human Resource Management, as one of the state's top large employers. The award is based on the company's workplace policies, systems, and practices, as well as a survey, which was open to all employees, that measures employee engagement and satisfaction.
CDPHP employees enjoy comprehensive and flexible benefits, including tuition reimbursement, leadership development, a full-service cafeteria, and the ability to pursue community service activities.
CDPHP offers a worksite wellness program, which includes an on-site gym with a full-time fitness specialist offering free daily exercise classes. Employees are also welcome to participate in a variety of health and wellness workshops and health screenings.
In addition to the Best Companies award, CDPHP has earned a number of honors and recognitions in the past year, including the Capital District Women's Employment and Resource Center Advancement of Women in the WERCplace Award and The Principal® 10 Best Companies for Employee Financial Security – 2013.
For a list of current opportunities at CDPHP, visit the Career Center. Three other Capital Region companies – two small/medium and one large – also made the list of 60 best companies statewide. For more information on the Best Companies to Work for in New York awards program, visit http://www.bestcompaniesny.com.
About CDPHP®
Established in 1984, CDPHP is a physician-founded, member-focused and community-based not-for-profit health plan that offers high-quality affordable health insurance plans to members in 24 counties throughout New York. CDPHP is also on Facebook, Twitter, LinkedIn and Pinterest.