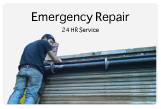 Rolling Gate Repair New York City Are Responding to Gate Emergencies 24 HR 7 Days A Week
Manhattan, Brooklyn, Queens, NY (PRWEB) May 08, 2014
Rolling Gates NYC, a reputed company offering rolling gate installation, repair, maintenance service in New York, has recently taken an initiative to help its clients make a better decision when choosing rolling gates. According to the company spokesperson, a thoughtful decision can considerably increase the overall value customers can get with their purchase.
The spokesperson further explained the long-term impact of buying the right type of rolling gates, and said, "From metal grill to solid curtains, there are a dozen different types of rolling gates that generally serve the same purpose. However, there are often minor details of clients' specific requirements that make one option far more beneficial than the other. That is why it is important to know which type of gate will be best for you."
He further explained one of the major reasons that keep the customers from making the best decision. In most businesses, it is the lack of availability of sound professional advice in this aspect. That is the reason Rolling Gate NYC encourages its team of highly experienced rolling gate repair and installation experts to help customers in making the decision.
Serving the industry for years, Rolling Gate NYC only hires certified technicians with years of experience under their belts. Using their experience, the professionals offer complete consultation regarding purchase and maintenance of rolling gates for both commercial and residential purposes.
Explaining two of the most common types of rolling agents in New York, the spokesperson described major points of differences between a solid curtain and a grill curtain. A solid curtain offers not just protection but privacy as well. The grill, on the other hand, offers protection while allowing easy passage of air and light. In areas where graffiti is a major concern, grill curtains can save the shop appearance from being compromised by it.
"It is a matter of preference as well as the neighborhood. Some people want complete protection and privacy, and therefore, choose a solid curtain that totally blocks out almost everything. Others prefer grille for many reasons, especially due to the visibility it offers. It allows even a passerby to detect a suspicious activity in case someone broke into the shop somehow."
Finally, he highlighted another major reason to seek professional advice while purchasing. Since most customers are not well aware of the material and quality of the gates, opinion of an expert with technical understanding of the product can prove very helpful. The value, he added, can be further enhanced through timely and professional maintenance of the door. Rolling Gate NYC offers its round-the-clock rolling door maintenance and repair services all across New York. For more information, please visit the website http://www.rollinggatebrooklyn.com.