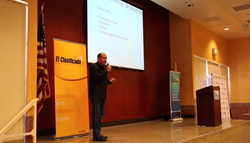 There is no excuse for not being active in social media, which is a great opportunity for all entrepreneurs today.
Los Angeles, CA (PRWEB) May 06, 2014
Social networks are a great marketing opportunity for Hispanic entrepreneurs to connect with Latino consumers, the fastest-growing US demographic, who have shown strong online presence and purchasing power. Recognizing the increasing opportunities social media provides for businesses to engage with current and potential clients, Elias Chavando worked to become an expert in the online social world and helped provide tips and tools as the keynote speaker at the Su Socio de Negocios event held at the Delhi Community Center in Santa Ana last Wednesday.
"There is no excuse for not being active in social media, which is a great opportunity for all entrepreneurs today," Mr. Chavando said during his speech delivered to 50 Hispanic business owners interested in establishing their brand in social media.
Included in this group of business owners was Anabel Alvarez, founder of Royal Eagle Publishing, who says that a great number of her clients were acquired through Facebook, Twitter, and other social networks in which she is active in. "I think there is still a lot to learn about social media, but I appreciate Elias Chavando's presentation because he is guiding Latinos in the right direction."
Another entrepreneur, Gustavo Velazquez, said he learned "great information" and "appropriate marketing strategies" that will help him connect with customers, something that is necessary for his financial advising firm. "There were some very interesting points and I look forward to applying them to my business."
Stressing the need to take small steps, Chavando suggested mastering one social network at a time and "once you have mastered one then move on to the next." He also provided tips on how to convert followers into clients and several strategies to increase brand recognition.
The event's sponsors were New York Life, Orange County Chamber of Commerce, EC Hispanic Media, and El Clasificado. The next Su Socio de Negocios Expo will have the participation of financial expert former member of group band Menudo, Xavier Serbia on May 14, 2014.
About Su Socio de Negocios
Su Socio de Negocios is a series of events and expos in Spanish that El Clasificado debuted in 2006. El Clasificado, an E C Hispanic Media company, is a multi-platform media company that connects buyers and sellers in the Hispanic community. El Clasificado's print magazine has a verified weekly circulation of 510,000 that reaches 1.5 million weekly readers and is distributed from Fresno to San Diego and most recently to Yuma, Arizona. EC Hispanic Media also owns and operates elclasificado.com, which reaches 18 million monthly page views and susociodenegocios.com, which offers Hispanic small business owner's information on how to grow their business.