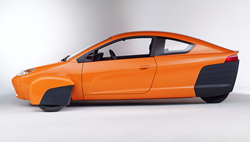 "The economic benefits of "The Elio are highly likely to push more people away from their gas-guzzling clunkers and into this highly efficient vehicle," Elio said.
Long Beach, CA (PRWEB) May 08, 2014
Paul Elio wants to bring environmentally friendly transportation to the masses. The founder and CEO of Elio Motors Inc. believes that most alternative vehicles may simply be beyond the means of average consumers. His company's revolutionary three-wheeled vehicle, which is engineered to achieve 84 miles per gallon, will sell for an anticipated $6,800 when it launches in 2015.
Elio Motors is displaying one of its prototype vehicles at the Alternative Clean Transportation Expo at the Long Beach Convention Center here this week. The event features many of the top companies and thought leaders in the clean transportation industry.
"There are some great technologies here, and many will be an integral part of the transportation landscape in the future," Elio said. "But, many of the technologies that you see on display here today and many of the vehicles that currently are available on the market are simply not affordable for the typical American household. We will launch a vehicle that is affordable and environmentally friendly."
According to data recently released by Experian Automotive, the average loan for a hybrid vehicle is $26,835, while the average loan for an electric vehicle is $28,835 ("Experian Automotive: Consumers purchasing an electric vehicle are younger and more affluent than those buying a hybrid," April 22, 2014; http://press.experian.com/United-States/Press-Release/experian-automotive-consumers-purchasing-an-electric-vehicle-are-younger-and-more-affluent.aspx). The average monthly payment for a hybrid is $467 and for an electric vehicle it is $549. These high prices typically mean the vehicles are purchased by affluent customers. For electric vehicles, 21 percent of buyers have an annual household income of $175,000 or more.
Driven 15,000 miles annually, Elio Motors' vehicle will save individual owners $1,500 in fuel costs. Over 10 years, the vehicle could save American drivers 4.7 billion gallons of fuel and reduce CO2 emissions by 91 billion pounds.
In addition, Mr. Elio believes the economic value to vehicle owners will help create the company's own version of "Cash for Clunkers." Currently, there are 95 million "clunkers" on America's highways. Most people drive a low-mileage, low-price clunker because they don't believe they have any other option. With a vehicle from Elio Motors, clunker owners can get a new vehicle for a low price that is under warranty, inexpensive to insure and provides significant fuel savings.
"The economic benefits of The Elio are highly likely to push more people away from their gas-guzzling clunkers and into this highly efficient vehicle," Elio said. "Getting the average consumer into a more environmentally friendly vehicle will have a significant impact on the environment and on our dependence on foreign oil."
If that's not enough to convince people that The Elio is on the right environmental track, Mr. Elio is always happy to point out the company's cow fart comparison. Elio Motors' vehicle will be more environmentally friendly than a year's worth of one cow's flatulence.

One cow produces 242 lbs of methane a year through burps and flatulence. Methane traps 20 times more heat than CO2 over a 100-year period. ("Which Is Worse: 1000 Cars or 1000 Cows?" Get Green Living; http://www.getgreenliving.com/which-is-worse-1000-cars-or-1000-cows/) In a year, the average cow will emit 4,840 lbs of CO2 equivalent greenhouses gases.
The Elio, driven 20,000 miles, will emit only 4,500 lbs of CO2. So, The Elio is more environmentally friendly than cow flatulence.
With its affordable price, environmental benefits and the sleek, aerodynamic design, people across the country are falling in love with Elio Motors. Nearly 17,000 people have made reservations for the vehicle. The company already has more than 120,000 fans on Facebook and is averaging more than 250,000 unique visitors per month to its web site this year.
About Elio Motors: Founded by car enthusiast Paul Elio in 2008, Elio Motors Inc. represents a revolutionary approach to manufacturing an ultra-high-mileage vehicle. The 3-wheeled Elio will attain a highway mileage rating of 84 mpg while providing the comfort of amenities such as power windows, power door lock and air conditioning, accompanied by the safety of multiple air bags and an aerodynamic, enclosed vehicle body. Elio's first manufacturing site will be in Shreveport, La., with plans for the first production vehicle to roll off the assembly line in 2015 and significant production, sales and distribution during the next two years. For more information, visit http://www.eliomotors.com or http://www.facebook.com/ElioMotors.