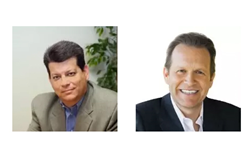 "I am delighted to welcome Joe and Dave as non-executive advisors to the OpenSymmetry Advisory Board," said Todd LeBaron, CEO, OpenSymmetry
Austin, TX (PRWEB) May 07, 2014
OpenSymmetry, the largest global specialists in sales performance management (SPM), announced Joe Jacober and Dave McLurg to the company's Advisory Board, as well as, the appointment of Dave McLurg to Chief Sales Officer, effective immediately. These individuals bring a wealth of knowledge that will help grow the OpenSymmetry brand globally.
"I am delighted to welcome Joe and Dave as non-executive advisors to the OpenSymmetry Advisory board. Their experience and knowledge in sales, marketing and overall corporate operations is first class and a valuable resource for the executive team and myself as we continue to grow both domestically and globally," said Todd LeBaron, CEO, OpenSymmetry.
Joe Jacober has more than 25 years experience as an entrepreneur and brand revitalization authority. Jacober has successfully started, managed, and grown companies from the start up stage to public and is recognized for building great brands such as China Mist Tea, Pert Plus, and Innovative Brands. Jacober's focus will be on supporting and building the OpenSymmetry brand and growth strategies.
Dave McLurg has over 30 years experience in leading high-performance organizations and successfully building rapid growth businesses across multiple sectors. In his new role, McLurg will be responsible for developing and executing sales strategies, building the global sales infrastructure, and take North America sales to the next level.
"Joe's expertise in branding and strategy along with Dave's success in building world class sales teams is a welcome addition to build upon our already established expertise as a 10 year leader in Sales Performance Management consulting with over 900 solutions deployed globally. We look to continue this success and further benefit our clients by providing holistic solutions that deliver real business impact and a competitive advantage, " said Todd LeBaron.
OpenSymmetry recently relocated into a larger office space to accommodate company growth over the last year, fueled by broad customer adoption of its award-winning services and solutions. To keep on top of the company blog please subscribe to the RSS Blog Feed.
OpenSymmetry is the only global sales performance management consulting company that offers real-time business intelligence for reporting and analysis dedicated to sales performance management. The firm also provides end-to-end performance management roadmaps across all pillars of core SPM processes consisting of both strategic and technical services, enabling customers to transform their sales performance solutions into actionable results.
About OpenSymmetry
OpenSymmetry is a global Sales Performance Management (SPM) consulting firm delivering end-to-end performance management solutions consisting of both strategic and technical services that enable customers to transform their sales performance solutions into actionable results.
Founded in 2004, OpenSymmetry is headquartered in Austin, Texas with offices in London, Sydney, Johannesburg, Chennai and Kuala Lumpur. Clients range from SMB to Fortune 500 companies in the Communications, Financial, Health/Life Sciences, and IT/Distribution industries. For more information, please visit http://www.opensymmetry.com.
# # #