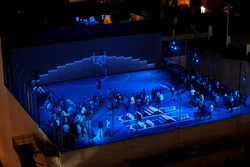 Fun for all levels, this weekly dance party will become a staple amongst this summer's events.
Hollywood, CA (PRWEB) May 07, 2014
Beginning Monday, June 9th, celebrity choreographer Benjamin Allen, founder of GROOV3, brings his high-octane, Hip Hop-inspired cardio dance workout to the fabulous rooftop court of The Montalbán. All levels are welcome to join the already massive community of dance lovers who enjoy the off-the-hook DJ-fueled celebration for the body and soul, all while getting a killer workout without feeling like they're "working out." Ben's on a mission "to inspire change and build communities through the power of dance". The "3" in GROOV3 stands for Allen's motto, "Dance, Sweat, Live". Already in 9 LA area locations, Ben's elevating his game to the coolest rooftop in town -- The Montalbán at sunset.
"Montalbán Mondays" will also kick-off on June 9th with The Ricardo Montalbán Film Fest. His engaging cinematic career is unknown to most people who recognize him only as the charming Mr. Rourke of "Fantasy Island" TV fame, but his talent far exceeded that particular role. The first of four screenings starring Mr. Montalbán will be MGM's 1948 "On an Island with You", co-starring Esther Williams, Peter Lawford, Jimmy Durante, and Cyd Charisse.
Succeeding Mondays will feature other classic films along with a variety of entertain-ment ranging from stand-up comedy to sit-down interviews, from edgy one-person shows to events for the entire family.
For tickets and information please visit GROOV3.com or call The Montalbán Box Office (323 461 6999) or visit themontalban.com. We are pleased to be partnering with this historic venue. Either way, upstairs or downstairs, on the roof or in the theatre, Monday nights in Hollywood just got hotter. Come join us!