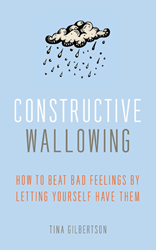 (PRWEB) May 07, 2014
In her new book Constructive Wallowing: How to Beat Bad Feeling By Letting Yourself Have Them, author Tina Gilbertson highlights the ways that feeling bad can actually lead to feeling better faster. It is tempting to turn away from menacing, uncomfortable feelings like anger, grief or regret and treat them like unwanted guests. However, ignoring them just seems to make them stick around. By learning to accept, rather than suppress, difficult feelings, gain greater self-understanding for lifelong emotional health.
Gilbertson also recommends in her most recent post on Psychology Today not suppressing excitement from anticipation, in other words to "keep your hopes up," even if the chances of achieving a goal are slim.
Gilbertson writes, "The best time to enjoy that delicious feeling of hope is before you get the news, one way or the other. If the news is bad, hope will be extinguished and replaced by disappointment. If the news is good, it will morph into something else. Satisfaction, maybe. In either case, the hope itself is deeply pleasant while it lasts."
Tina Gilbertson, LPC (licensed professional counselor) works with individual adults in her private therapy practice in Portland, Oregon. She also writes a popular weekly blog called Tina's Tidbits and offers classes, seminars and, workshops on a variety of personal development topics. Constructive Wallowing: How to Beat Bad Feelings By Letting Yourself Have Them is Gilbertson's first book.