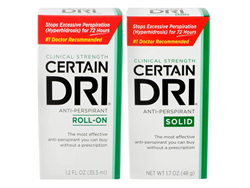 For maximum sweat protection I recommend Certain Dri Clinical Strength Anti-Perspirant Roll-On formulated with 12% aluminum chloride, the strongest available formula without a prescription.
Edison, N.J. (PRWEB) May 08, 2014
Working out, eating right and living a healthy lifestyle should be rewarded with the ability to wear the latest styles with confidence. Unfortunately, many men and women suffer from confidence-robbing body/skin issues like excessive underarm perspiration, making them feel like they need to hide behind layers of clothing and even shy away from certain styles and colors. The good news? According to dermatologists, there are over-the-counter beauty products that can help leave you looking and feeling amazing whether you're dressed or undressed!
"There is definitely a misconception that drugstore products can't get the job done, but that couldn't be further from the truth," says dermatologist Dr. David E. Bank, director of The Center for Dermatology, Cosmetic and Laser Surgery in Mount Kisco, NY, an advocate of Certain Dri®, the number one doctor recommended antiperspirant for excessive perspiration. "Common skin/body issues can be emotionally daunting and uncomfortable, leaving you feeling frustrated and embarrassed in social situations," expresses Dr. Bank. "If at all possible, recommending an over-the-counter product is usually my first form of treatment but if we don't see results, I'll suggest another treatment option. However, more often than not my patients are surprised with the results delivered by over-the-counter products."
To find what really works for some of the most common skin/body issues, Dr. Bank offers his top picks for over-the-counter drugstore beauty products to bare-it-all with confidence.
Excessive Perspiration: No more hiding from noticeable sweat stains behind layers or dark colors. "For maximum sweat protection I recommend Certain Dri Clinical Strength Anti-Perspirant Roll-On formulated with 12% aluminum chloride, the strongest available formula without a prescription," says Dr. Bank. Aluminum chloride is made up of smaller sweat fighting molecules which penetrate further to create a plug in the sweat ducts to help block perspiration. When applied as directed – sparingly at bedtime – Certain Dri works to give back the confidence to wear any style of clothes and not shy away from social situations," adds Dr. Bank. Now available in a thicker, drip-free formula that is even more gentle on skin, providing 72-hours of sweat protection with each application versus the 24-hour promise of the other clinical strength antiperspirants currently on the market. Certain Dri Clinical Strength Anti-Perspirant is available in solid and roll-on for approximately $7.19-$7.89. For added protection use with Everyday Strength Certain Dri A.M. Underarm Refresher Antiperspirant/Deodorant.
Toenail Fungus: Don't throw out those sandals just yet! The not-so-pretty yellow staining and thickening of toenails, most commonly in the big toe, could possibly be toenail fungus – Onochomycosis is the fancy medical term. "Look for a product that contains the active ingredient terbinafine, like in Lamisil AT® Cream and apply twice a day on your toenail," advises Dr. Bank. Changes are gradual but side effects are quite minimal. Available for approximately $15.99.
Dandruff: Don't flake out and shy away from wearing black. There's an easy solution for treating dandruff. "Flaking, itching and scratching associated with dandruff, seborrheic dermatitis or psoriasis of the scalp can be very embarrassing because you can't help but reach for your head to scratch for relief," says Dr. Bank. There are a number of good dandruff shampoos with conditioners ranging in price. Try Neutrogena® T/Gel Daily Control 2-in-1 Dandruff Shampoo Plus Conditioner for $6.99.
Redbumps on Triceps: Ugly as they are, these unsightly red, pimple-like bumps on your triceps (back of bicep) are called keratosis pilaris. Effective products that contain the ingredient ammonium lactate, such as AmLaktin® for $15.99 can help clear this up. The only thing noticeable on your arms will be your killer biceps.
Psoriasis on Knees and/or Elbows: While many people who experience psoriasis can only be treated with the help of a dermatologist, there are a lot of people who experience mild cases of psoriasis only on their elbows and knees. To help calm and smooth out skin on knees and elbows, Dr. Bank recommends products that contain 1% hydrocortizone such as Cortizone 10® for $9.50 or the ingredient Hyaluronic Acid like CeraVe® Moisturizing Lotion for $10.99.
Although these skin/body issues are common, no treatment is a one-size fits all. If you're not sure about unexplainable changes in your hair, skin, nails or body, it's best to see a dermatologist or your general healthcare provider, especially if these changes are not responding to an over-the-counter treatment, as they could be related to another underlying health issue.
Certain Dri® Clinical Strength Anti-Perspirant and Everyday Strength Certain Dri® A.M. product line and the other products recommended by Dr. Bank can be found at major retailers nationwide as well as online at drugstore.com. For more information about Certain Dri and the new, thicker, drip-free formula, please visit http://www.certaindri.com. Or for the latest on product news, giveaways and special offers, connect with the brand on Facebook – http://www.facebook.com/certaindri.
Note to Media: To set up an informative interview with Dr. David Bank, please contact Ashley Hughes at ahughes(at)rlapr(dot)com or call (914) 241-0086, ext. 14.
###