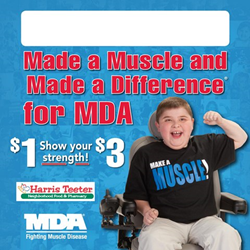 Matthews, NC (PRWEB) May 07, 2014
Harris Teeter is donating today over $570,000 to Muscular Dystrophy Association (MDA) to help the voluntary health agency raise funds to continue its work to defeat 43 neuromuscular diseases through programs of worldwide research, comprehensive service as well as far-reaching professional and public health education. The donation was made possible thanks to generous contributions from Harris Teeter customers during the company's point of purchase donation card campaign to benefit MDA.
Harris Teeter hosted the "Make a Muscle" donation card campaign in March, during which time Harris Teeter customers were invited to make a $1, $3 and $5 donation to MDA at checkout. MDA representatives visited stores throughout the campaign, sharing information about MDA and capturing images of Harris Teeter associates and customers 'making a muscle' for the organization.
"Harris Teeter customers continue to show us through these gifts how important MDA is to them," said Catherine Becker, communication manager for Harris Teeter. "The amount raised this year is more than double what was donated in 2011; this increase tells us that our customers want to help MDA in the fight against neuromuscular disease, and we're pleased to be a part of their efforts."
The money raised during Harris Teeter's donation card campaign will help MDA provide comprehensive health care and support services, advocacy, and education for individuals and families affected by these diseases. This includes MDA Summer Camps for children ages 6-17, MDA-funded clinics, local support groups and educational seminars, and assistance with equipment repairs.
"The Harris Teeter donation card campaign helps makes the dream of MDA summer camp a reality for a number of children living with muscle disease," said MDA Divisional Director Theresa Miller. "Every dollar makes a difference and we are so thankful for these contributions."
Harris Teeter customers who would like more information about MDA can visit http://www.mda.org.