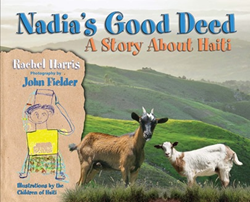 We can all learn a little about giving, loving, and hard work from Nadia. If, like Nadia, we all did a good deed, the world would be a much better place.
Denver, CO (PRWEB) May 07, 2014
In 2012 Colorado Academy 6th-grader Rachel Harris pursued John Fielder until he would agree to travel with her to Haiti! By email and letter, Harris beseeched Fielder, Colorado's best-known photographer, to help her produce a children's book to be sold to benefit the people of one of the world's poorest countries.
Fielder acquiesced and in August, 2013 visited Haiti for a week with Rachel and her father, Denver attorney Richard Harris, and Jean Mensendick, board member of the Harris' Road to Hope Foundation. Fielder photographed the people and scenery around the city of Mirebalais and the remote mountain village of Nordette, accessible only on foot by a steep mountain trail.
Fielder also brought along a battery-operated Canon printer. There is no electricity in the village of Nordette, nor plumbing or an immediate water supply. Village residents must hike for 30 minutes down the trail every day to get water for drinking, cooking, and bathing. The water is transported back up the mountain in large buckets on top of the village women's heads.
The children of Nordette convened each day in the open air building that serves as both a school and a church to draw color artwork of Fielder's photographs. This art, Fielder's photos, and Rachel Harris' story about Nadia, a fictitious and anthropomorphized local goat, combine to create a book that will appeal to children and adults alike!
"Usually Nadia tried to ignore the roosters before sunrise, but today was different. The crowing meant the sun was finally making its way up and her travel day was about to begin. Nadia and Serge lived in Nordette, a mountain village in the hills above the city of Mirebalais, Haiti. It was a small, quiet village where the people worked hard and helped each other."
The Harris family operates a non-profit foundation, The Road to Hope in order to finance and build infrastructure, such as schools, churches, and water systems, and to acquire land for the benefit of Haitian communities. All profits from the book go to the foundation. Says Rachel Harris about her trips to Haiti and her new book:
"Every time I go to Haiti, I am amazed by the culture, the way of life, and the people. I am drawn in by the kindness, the dedication to family, and the simple way of life. Despite the challenging conditions there, every person is welcoming and joyful when I visit. I hope this book gives a glimpse into the beautiful Caribbean country of Haiti. The people and the nature of the village of Nordette inspire me. The children of the village are friendly and happy! We can all learn a little about giving, loving, and hard work from Nadia. If, like Nadia, we all did a good deed, the world would be a much better place."
Rachel Harris is a middle-school student in Littleton, Colorado. She has seven siblings, six of whom were adopted. Rachel is passionate about the theater and loves to perform on stage. She has a special interest in musicals and anything related to Shakespeare. Rachel also enjoys skiing, tennis, and volleyball. Her hope is for the kids of Nordette, Haiti, to be able to pursue their dreams as strongly as she is pursuing hers!
John Fielder has worked tirelessly to promote the protection of Colorado's ranches, open space, and wildlands during his 33-year career as a nature photographer and publisher. His photography has influenced people and legislation, earning him recognition including the Sierra Club's Ansel Adams Award in 1993 and, in 2011, the Aldo Leopold Foundation's first Achievement Award given to an individual. More than 40 books have been published depicting his Colorado photography. He lives in Summit County, Colorado, and operates a fine art gallery, John Fielder's Colorado, in Denver's Art District on Santa Fe. He teaches photography workshops to adults and children. Information about John and his work can be found at johnfielder.com.