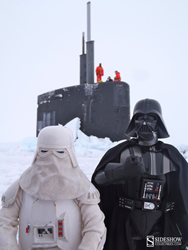 Thousand Oaks, CA (PRWEB) May 07, 2014
On March 19, 2014, Sonar Chief Petty Officer Geoffrey Walker and the crew of the USS Hampton set out on a real life mission, as two fast-attack submarines departed for the North Pole to conduct extensive testing in Arctic waters.
Aboard the USS Hampton, based out of San Diego, Chief Walker is regarded as the leading expert on Sonar and Foreign naval weapon systems, but he is also known as the ship's biggest Star Wars fan.
Prior to the expedition, Chief Walker contacted Sideshow with a fantastic idea for a unique photo opportunity - how cool would it be to pay homage to Star Wars in one of our planet's most Hoth-like environments? Sideshow's team members were honored to provide the crew with a Snowtrooper and Darth Vader Deluxe Sixth Scale Figures to make the trek.
"When Chief Walker contacted us with this once-in-a-lifetime opportunity, we were thrilled to participate and help him find a way to represent that infamous galaxy far, far away among the furthest reaches of our own planet," said Sideshow President and CEO, Greg Anzalone.
The crew of the USS Hampton have since returned with picturesque greetings that delightfully juxtapose the Star Wars villains against an out-of-this-world backdrop with the immense vessel and breathtaking landscape.
To read the full article, please visit our blog at: http://bit.ly/ArcticVader.
About Sideshow Collectibles
In 1994, Sideshow Collectibles embarked on a mission of connecting people with their favorite characters and icons from the worlds of film, television, comic books and popular culture. Today, we are a specialty manufacturer and distributor of the most highly sought-after licensed and original collectible products, sustained by a passionate worldwide community that is committed to the lifestyle of collecting figural art. Our headquarters are located in Thousand Oaks, California.
Contact and connect with us:
To learn more about this release, please contact:
Tara Duffy
Marketing Coordinator
2630 Conejo Spectrum Street
Thousand Oaks, CA 91320
Office: 805-214-2135
Fax: 805-214-2190
Website: http://www.sideshowcollectibles.com
Facebook: https://www.facebook.com/sideshowcollectibles
Twitter: https://twitter.com/collectsideshow