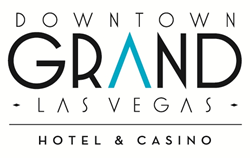 "We're a brand-new hotel-casino that cherishes its rich history—and that's why our first major casino promotion offered our guests a choice between a spectacular classic car and its modern-day counterpart," explained Seth Schorr, CEO, Downtown Grand.
LAS VEGAS (PRWEB) May 08, 2014
This summer, Downtown Grand Hotel & Casino is celebrating six months of operations by offering MY POINTS Downtown Grand members the chance to win a brand-new 2014 Tesla S. Coveted for its high-design body style and superb engineering; the Tesla being given away by Downtown Grand is a forward-thinking, environmentally conscious vehicle that complements the innovative Project 100—the Tesla S car-sharing program—announced in conjunction with Las Vegas' Downtown Project last year. In addition, Downtown3rd, the new metropolitan neighborhood in the heart of downtown Las Vegas adjacent to Downtown Grand, is currently exploring the possibility of installing Tesla charging stations in the coming months.
At the end of April, Downtown Grand Hotel & Casino gave away a brand-new, silver 2013 Corvette. Thomas Robertson of Las Vegas won the drawing, which was held Saturday, April 26, at 9 p.m.
To be eligible to enter the drawing, individuals were required to be MY POINTS Downtown Grand members, be present to win at the drawing and have a rated play session the day of the drawing starting at 7 p.m. to activate their drawing tickets. Qualified players earned one virtual drawing ticket for every 1,000 points earned. Ten grand-prize finalists were selected at Saturday's drawing, and each finalist was given the opportunity to choose one of 10 envelopes. All ten finalists opened their envelope simultaneously to reveal their prize. The other nine of the finalists received complimentary slot play or table game promotional chips.
Said Robertson, "I never dreamed I'd win a car like this!"
This giveaway follows March's drawing, which awarded a local Las Vegan with a classic, silver 1966 Corvette. That winner had the choice of selecting either the 1966 or 2013 Corvette or a $25,000 cash prize.
"We're a brand-new hotel-casino that cherishes its rich history—and that's why our first major casino promotion offered our guests a choice between a spectacular classic car and its modern-day counterpart," explained Seth Schorr, CEO, Downtown Grand. "Like all the experiences we present our customers at Downtown Grand, we carefully curate the cars offered in our casino promotions to reflect that unique combination of urban sophistication and old-school class we offer our guests, each and every day."
To become a MY POINTS Downtown Grand member or for more information, go to http://www.downtowngrand.com.
ABOUT MY POINTS DOWNTOWN GRAND
MY POINTS Downtown Grand is the property's premier reward program. Members earn points playing slots and table games, which they can redeem for complimentary casino play, hotel accommodations, dining, gaming tournaments, special events and more. Guests can sign up for MY POINTS Downtown Grand memberships online or in person. Also, new members instantly receive up to $1,000 in free slot play. Participants must be 21 years of age with valid identification.
ABOUT DOWNTOWN GRAND LAS VEGAS HOTEL & CASINO
Downtown Grand Las Vegas Hotel & Casino is the anchor and crown jewel of Downtown3rd, the new metropolitan center of Las Vegas. The 18-story Casino Tower and 25-story Grand Tower feature 634 guest rooms ranging in size from 350 to more than 1,200 square feet with high-definition flat-screen televisions, presidential pillow-top mattresses and high-thread-count linens, setting a new standard for luxury, sophistication and style in downtown Las Vegas. The exterior design of Downtown Grand blends multiple storefronts with a brick and granite façade creating a series of inviting indoor/outdoor experiences. The "industrial chic" interior features the raw energy of a factory juxtaposed with ornate fixtures and canopies. Downtown Grand offers 25,000 square feet of gaming space with nearly 600 new slot machines, 30 table games and a fully featured sports book powered by William Hill. Downtown Grand boasts a variety of unique bars and restaurants providing a wide variety of cuisines and price points. PICNIC, an urban rooftop pool experience, is Downtown Grand's signature entertainment/dining venue encompassing more than 35,000 square feet and featuring an infinity pool, full restaurant and bar, private cabanas, a fire pit and a grass seating area. Downtown3rd is just steps away from the world-famous Fremont Street Experience and The Mob Museum, within walking distance of Fremont East Entertainment District, and less than one mile from the Las Vegas Premium Outlets and The Smith Center for the Performing Arts. Downtown Grand Las Vegas is owned by CIM Group and managed by DTG Manager Las Vegas, LLC. Fifth Street Gaming is the property's gaming license holder and casino operator. For more information, call (702) 719-5100 or go to http://www.DowntownGrand.com. Find on Facebook or Twitter @DowntownGrandLV.
ABOUT FIFTH STREET GAMING
Fifth Street Gaming (FSG) is a Las Vegas, Nevada-based casino management company led by CEO Seth Schorr. Founded by Schorr and his partner, Jeffrey Fine, Fifth Street Gaming is comprised of executives from Wynn Resorts, MGM International and the Golden Nugget Corporation. FSG has partnered with CIM Group to redevelop, reprogram, and reopen the former Lady Luck Hotel and Casino. Through affiliates, the principals of Fifth Street Gaming own and operate four Las Vegas gaming locations.
ABOUT CIM GROUP
CIM Group is a leading real estate and infrastructure investment firm that since 1994 has systematically and successfully invested in dynamic and densely populated communities throughout North America. CIM Group draws on its experienced team of real estate, investment and finance professionals to identify and pursue investment opportunities in three primary strategic categories: repositioning and development projects in established and emerging urban areas; well-positioned operating properties in transitional districts; and infrastructure. CIM manages three distinct portfolios, including opportunistic, stabilized and infrastructure funds, each of which are diversified by geography and type of property within that risk profile. Headquartered in Los Angeles, CIM maintains regional offices in New York, the San Francisco Bay Area and Bethesda, Maryland. For more information, please visit http://www.CIMGroup.com.