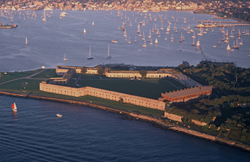 We wanted the opportunity to help people in as many ways as possible
Newport, Rhode Island (PRWEB) May 07, 2014
The entertainment's been amped this summer. 'Newport Rocks the Fort– Concerts and More at Fort Adams' gives Newporters and guests great reasons to cross the harbor and visit the historic fortress.
Two major concerts, Sunday June 29 and Friday August 29 feature both tribute bands and national acts. Starting Thursday June 19 local performers have the stage. Each music festival comes complete with food, beverages and fun. Proceeds from all concerts support the restoration of historic Fort Adams.
Dale J DeJoy, weekend concert producer, reports an outstanding lineup. "The June 29th Concert includes John Cafferty and the Beaver Brown Band, Another Tequila Sunrise - Eagles Tribute, Hey Nineteen - Tribute to Steely Dan, Dynamite Shack, Corruption Choir, and Mama Dee. This concert starts at 2PM and will be a great afternoon of music. As you arrive you'll enjoy Chakulla and the Hunger Bus providing entertainment and collecting non perishable canned goods for the RI Food bank."
DeJoy continues, "We wanted the opportunity to help people in as many ways as possible. We welcomed the Hunger Bus to get food to those who need it, while ticket sales help restoration of the Fort."
The August 29th concert features Rick Derringer, Hey Nineteen and Chakulla, with a final lineup still to be announced.
The concerts will include a food court serving Rhode Island favorites as well as 'concert casual food' from local vendors. The event will have alcohol service. Tickets are $35.
'Newport Rocks the Fort Sundown Thursdays' are free concerts set on the Fort's North lawn. Starting at 6:00 PM and ending shortly after the sunset, talented musicians and other performers from Newport and beyond will share their talent. Tom C. Erb, Newport City Limits event producer notes, "The entertainment will include solo acts, bands, comedians and more. We've got tremendous talent in Newport, and this is such a great stage on which to perform."
'Newport Rocks the Fort - Sundown Thursdays' are scheduled for June 19th, 26th, July 3rd, 10th, 17th, August 7th, 14th, 21st, 28th and September 4th.
Ticket information. Also visit Newport Rocks the Fort, Facebook, and Newport City Limits.
About Fort Adams
Fort Adams is the largest, most complex coastal fortress in North America, and a National Historic Landmark. The Fort, often considered the NASA of its day, was where America learned how to build sophisticated military systems. Today the Fort is open for tours, site rentals for events, and is rapidly becoming Newport's Adventure Learning Destination.
The RI Park system does not permit alcoholic beverages to be brought into the park by individuals.
About the Fort Adams Trust
The Fort Adams Trust is a 501 (c)(3) non-profit responsible for preserving, programming, and promoting the National Historic Landmarks in Fort Adams State Park, Newport, Rhode Island. Over 100,000 people tour the Fort and attend events in the Park annually.
About Newport Rocks the Fort – Concerts and More at Fort Adams
Newport Rocks the Fort is a joint program of the Fort Adams Trust; Dale J DeJoy, music producer and leader of the band Hey Nineteen; and Tom C. Erb, founder of Newport City Limits and Board Member of the Fort Adams Trust. Newport City Limits is committed to producing, marketing and promoting original art, film, music and theater in Newport, Rhode Island.