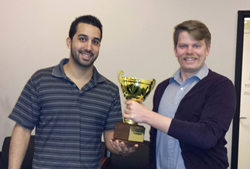 Chicago, IL (PRWEB) May 07, 2014
American Homeowner Preservation ("AHP") announced today the employee of the month award for April 2014 has been given to Shawn Tolu. As an Asset Manager at AHP, Tolu's responsibilities include prompt resolutions of assets by interfacing with homeowners, servicers, agents and other stakeholders. Shawn joined AHP in October of 2013 after earning a finance degree from DePaul University.
Tolu was voted by his peers at AHP for this award in consideration of some of the following guidelines: exemplary individual achievement, commitment to quality in carrying out job responsibilities, inspired and supported the performance and achievement of others, and positive attitude toward work responsibilities. During the voting process, one of Tolu's coworkers noted that, "He is very hands on and always makes himself available to answer questions. He has taken the time to go over procedure questions – even if I have general questions that do not specifically involve one of his properties."
In addition, Tolu is a tremendous representative of AHP in all of his interactions, as it is apparent to everyone in the office how well he communicates with others over the phone. Tolu said he was initially interested in working for AHP because it is a business that really helps people. When asked what his favorite part of his job is, Tolu responded, "When you come to a resolution-- you help a family that we didn't want to foreclose on, and we made it affordable for them to stay in their home."
Other admirable qualities Tolu carries with him day in and day out are his great sense of humor and outgoing personality. While it is clear that he is always working hard, he is also making sure that others around him have a smile on their face while they are doing their work as well. "Shawn likes to keep things in the office fun and involves everyone; creating a team dynamic. He helps out in any way needed, contributing to the growth of the team," one colleague said.
Outside of AHP, Tolu enjoys playing basketball and is looking forward to taking advantage of all the outdoor activities Chicago has to offer once the weather warms up. As the employee of the month, Tolu will have the privilege of selecting a restaurant for the company's monthly luncheon. He has indicated that nearby Bar Louie will likely be his restaurant of choice.
American Homeowner Preservation was established in 2008 as a nonprofit organization before transitioning to for profit. Today, AHP purchases pools of distressed mortgages from banks at big discounts, and then offers sustainable solutions to families to avoid foreclosure and stay in their homes, while concurrently generating attractive financial returns for both the homeowner and investment community. For more information about American Homeowner Preservation, please visit our website at https://ahpinvest.com, call (800) 555-1055 or email us at info(at)ahpinvest(dot)com.