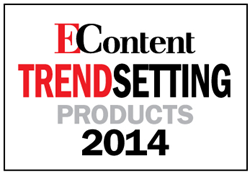 repubHub enables anyone to instantly license and republish content from world-class publishers.
SEATTLE, Wash. (PRWEB) May 07, 2014
iCopyright.com, a Seattle company that invented instant licensing of digital content via its award-winning iCopyright Toolbar plugin, announced that its new repubHub.com content licensing network has been recognized by EContent magazine as one of 70 "Trendsetting Products of 2014."
EContent focuses on the business side of digital media, publishing, and marketing, and assembled this inaugural list to share with its readers the tools it believes are meeting the needs of this ever-evolving industry.
According to EContent Editor Theresa Cramer, "As the list of available tools of the trade grows, it becomes more important to differentiate the products that get the job done and the products that are staying ahead of the curve, anticipating the needs of their users. To paraphrase hockey player Wayne Gretzky—they skate not to where the puck is, but to where it is going."
repubHub addresses the growing needs of online editors, brand marketers and bloggers for credible and fully licensed third-party content to supplement their original work. It also provides publishers with options for monetization that meet the expectations of Web users for free or low-cost content.
"We are excited that EContent has recognized repubHub just as we formally launch this innovative content network," said iCopyright CEO Andrew Elston. "repubHub enables anyone to instantly license and republish content from world-class publishers. It also empowers publishers with a syndication platform to safely and easily license content to others. The early adoption of repubHub by both content curators and content creators during our beta period indicates that we're meeting real needs."
Contributors to the repubHub content network include top U.S. and Canadian publishers such as Financial Post, Global Post, International Business Times, Investor's Business Daily, McClatchy Tribune News Service, Newsweek, PR Newswire, The Washington Times, UPI and many others.
repubHub is free to search, and anyone can monitor unlimited topics and receive feeds of fresh content—daily or as the news is published. Most of the content can be republished for free, with options for other license types.
Users of WordPress who deploy the free iCopyright Toolbar plugin receive fresh, tailored, license-ready content directly in their Posts menu, making republishing an easy process. Users of any other content management system are notified of fresh content via email and can quickly republish full articles to their sites with just a few clicks.
All content licensed via repubHub mimics the format of the site where it is republished, while maintaining the branding and attribution of the original publisher including links, copyright notice and terms of use.
iCopyright was founded in 1999. In addition to its repubHub content network being named an EContent TrendSetting Product for 2014, the company is a two-time winner of the SIIA's CODiE Award for its advanced content licensing technology and an eight-time member of the EContent 100 list.
For further information about repubHub visit http://www.repubHub.com, email info(at)icopyright(dot)com, or call 206-484-8561.