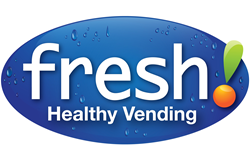 Securing 334 locations so far in 2014 is an outstanding accomplishment and in our view is a lot of what sets us apart from our competition.
San Diego, CA (PRWEB) May 07, 2014
Fresh Healthy Vending International, Inc. (OTC Markets: VEND), North America's leading healthy vending franchisor, announces the successful procurement of 101 location contracts in the month of April (an indicator of machine installs in coming months and corresponding revenue recognition) for its franchise network and corporate-owned operations division. Fresh Healthy Vending provides extensive locations services that include a team of dedicated locations procurement specialists to secure prime vending location contracts for the company's network of franchisees.
"As a leader in this progressive industry, we attribute a large portion of our growth to the persistent work of our locations department. Securing schools, community centers, after-school programs and other local businesses give our franchisees the ability and freedom to focus on other aspects of their business and not be burdened with seeking out locations on their own," said Alex Kennedy, CEO of Fresh Healthy Vending International, Inc. "Securing 334 locations so far in 2014 is an outstanding accomplishment and in our view is a lot of what sets us apart from our competition. Our commitment to our franchisees starts with securing many high performing locations quickly so that they can hit the ground running."
In April, Fresh Healthy Vending also sold three new franchises, as well as upsold machines to three existing franchisees, for a total of 43 machines sold in the month; this after the company recorded its best single month of sales in over two years for March 2014. The 43 new machines, representing approximately $442,750 in sales bookings, will increase the company's national footprint and increase its ability to recognize additional recurring revenues from royalties on new installations.
With schools making up 36 of April's secured locations, Fresh Healthy Vending supports the efforts of the USDA's Smart Snacks in School standards, requiring schools to sell food items that meet certain requirements in relation to calories, sodium, fat and sugar. Fresh Healthy Vending offers an extensive list of snacks and beverages that meet and exceed these requirements. Fresh Healthy Vending's recently launched website platform http://www.freshandhealthy.org caters to the new USDA guidelines and supports any location looking to implement a healthy vending program.
With machines installed in April in several locations throughout his region, Connecticut franchisee John Kuschman is already seeing impressive sales results from his Fresh Healthy Vending combo machines. "Being new to the vending business, Fresh Healthy Vending has been extremely helpful in selecting excellent locations that have exceeded my sales expectations," said Kuschman. "With each location having different needs and stocked with varying selections of popular snack products, I've really appreciated the assistance and direction the company has provided me to foster successful locations and satisfied customers."
For more information on Fresh Healthy Vending, the Franchise Program, or to receive a free healthy vending machine in your school or business, visit http://www.freshvending.com or call toll free 888-902-7558.
About Fresh Healthy Vending
Fresh Healthy Vending, based in San Diego, California, is North America's leading healthy vending franchisor. Fresh Healthy Vending pioneered the concept of vending machines stocked with tried-and-tested fresh, healthy snack options and capitalizes on a growing market of health conscious consumers. The company has appointed more than 230 franchisees throughout the United States, Canada, Puerto Rico and the Bahamas and actively looks to partner with like-minded entrepreneurs who share its vision.
The company offers four different vending options: The Healthy Vending Combo snack and drink machine, Healthy Vending Café that brews gourmet hot beverages in less than 40 seconds, the Healthy Vending Touch-the only 46" 3D interactive touch screen vending machine and the Fresh Healthy Micro-Market.
The company has installed machines in more than 2,500 schools, universities, hospitals, community centers, military bases, airports, fitness facilities, YMCAs, libraries and many other types of locations.
Fresh Healthy Vending believes that it is currently the only vending company providing a comprehensive integrated business model that:
1. Has an integrative focus on securing qualified locations for vending machine placement on behalf of franchisees
2. Has an in-house products department which creates specialized menus specific to each location
3. Has a corporate owned machine division to provide an independent revenue stream separate from franchise sales
4. Provides franchisees with best practices obtained and enhanced by experience of directly operating machines and managing routes
5. Delivers a one of a kind franchise coaching program to assist franchisees with developing their healthy vending business using the company's Steps to Success Program
Fresh Healthy Vending's stock is traded through the OTC Markets, Symbol: VEND.
For more information on Fresh Healthy Vending, the Franchise Program, or to receive a free healthy vending machine in your school or business, visit http://www.freshvending.com or call toll free 888-902-7558.
Cautionary note on forward-looking statements
Except for historical information contained in this release, statements in this release may constitute forward-looking statements regarding assumptions, projections, expectations, targets, intentions or beliefs about future events that are based on management's belief, as well as assumptions made by, and information currently available to, management. While the Company believes that expectations are based upon reasonable assumptions, there can be no assurances that goals, results and strategy will be realized. Numerous factors, including risks and uncertainties, may affect actual results and may cause results to differ materially from those expressed in forward-looking statements made by the Company or on its behalf. In addition to statements, which explicitly describe risks and uncertainties, readers are urged to consider statements labeled with such terms as "believes," "belief," "expects," "intends," "feels, "anticipates," or "plans" to be uncertain and forward-looking. More detailed information on these and additional factors that could affect Fresh Healthy Vending's actual results are described in Fresh Healthy Vending's filings with the Securities and Exchange Commission, including its most recent annual report on Form 10-K for the fiscal year ended June 30, 2013 and those referenced in its Forms 10-Q filed for the quarterly periods ended September 30, 2013 and December 31, 2013. All forward-looking statements in this news release speak only as of the date of this news release and are based on Fresh Healthy Vending's current beliefs and expectations. Fresh Healthy Vending undertakes no obligation to update or revise any forward-looking statement, whether as a result of new information, future events or otherwise, except as required by law.