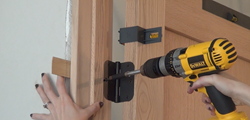 Saves the construction industry $250,000,000 in labor costs annually.
Backus, MN (PRWEB) May 08, 2014
JenTra Tools was awarded US Patent 8,677,636 on March 25, 2014, for its Cheatah door installation kit. It features four precise levels, built-in shim guides and a patented fit to accommodate any interior or exterior door.
40 million doors are installed in the US by contractors and homeowners each year. The traditional install process is time intensive, requiring up to 30 minutes per door by multiple workers. Improperly installed doors are also a common reason for consumer complaints to contractors.
The Cheatah's innovative design allows the level to be attached directly to the door and displays the correct door spacing on all sides. Proper spacing is required to avoid wear and tear on the door from rubbing or sticking within the frame.
Using the Cheatah door level, a single operator can completely install a door with correct spacing in one-third the traditional time. This translates to a savings of more than $250 million dollars in contractor labor costs annually.
"As labor costs rise and skilled labor continues to erode in the US, the need for easier and faster installation tools grows," stated JenTra co-owner, Travis Kelley. "The Cheatah door installation tool will more than pay for itself by time saved in just one use."
The Cheatah door installation kit is made in the United States and features DuPont ZYTEL nylon resin construction. JenTra Tools offers a lifetime replacement warranty and a 30 day money-back-guarantee for all components.
Please direct inquiries or questions to JenTra Tools at (855) 947-4300 or at http://www.jentratools.com.