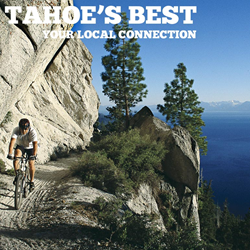 Lake Tahoe is known throughout the nation as a great outdoor adventure vacation spot, so enjoy some ideas for an awesome adventure trip to the Lake.
Lake Tahoe, CA (PRWEB) May 07, 2014
With more than 300 days of sunshine a year, a trip to Lake Tahoe is sure to delight everyone from horseback riders to white water rafters. There's no limit to the adventures awaiting those with a brave spirit and a willingness to venture off the beaten path! Today, TahoesBest.com (http://www.tahoesbest.com) released a list of top ten ways to enjoy the outdoors this spring/summer 2014.
"Lake Tahoe is known throughout the nation as a great outdoor adventure vacation spot," says Lindsey Skinner, editor of TahoesBest.com. "So enjoy some ideas for an awesome adventure trip to the Lake."
1: Camping
Operating out of the North Shore, Tahoe Wilderness Adventures offers outdoor enthusiasts the chance to really connect with nature through a variety of hiking, trekking and camping activities. Explore the pine forests; wander through meadows filled with wildflowers; sleep under the stars in a cozy valley. The company even rents stand-up paddle boards for cooling off in the water after a day of blood-pumping exercise!
2: Hang Gliding
Soar through the air like an eagle after booking a flight with Hang Gliding Tahoe. Not only do their wings offer 360° views of the lake and surrounding towns, but interactive lessons mean that passengers can also learn the basics of sailing through the wind and gliding joyously under the sun. Best of all, unlike traditional hang gliders, these light, FAA-approved aircraft come with specialized motors for maximum safety and power efficiency in the air.
3: Gondola Rides
Perfect for couples and honeymooners, a gondola ride up the mountain of Lake Tahoe is the very picture of romance. Not only are there more than two miles of chattering birds and panoramic scenery to take in, but riders will also have the chance to stop at the observation deck located 9,000 feet above sea level for incredible views of the lake, the Tahoe National Forest and Carson Valley.
4: Scenic Drives
The shoreline of Tahoe offers more than 70 miles of sightseeing, so for tourists with a few hours and gas to spare, this is a great way to explore California's natural beauty under your own recognizance. Drive at will through the hills and coasts of the landscape; stop for picnic lunches whenever you see a bench or playground. There are also plenty of shops, cafes, cabins, restaurants and souvenir stalls peppering the shoreline if you'd like to enjoy the conveniences of modern living. For the best places to stop while driving around Lake Tahoe, visit http://www.tahoesbest.com/where-are-best-places-stop-while-driving-around-lake-tahoe.
5: White Water Rafting
For those who aren't afraid of getting a little wet, grab a guide from Tributary Whitewater Tours and give yourself an experience unlike anything else offered on Lake Tahoe. These Class 3+ rapids can cover up to seven miles of churning, tossing, foaming adventure, and they'll take their riders through multiple avenues, including the North Fork American River and the Burnt Ranch Gorge. Dare to challenge yourself with the thrills available from Truckee river rafting. For a full list of river rafting in Lake Tahoe, visit http://www.tahoesbest.com/places/lake_tahoe_river_rafting.htm.
6: Fishing
Tahoe Sport Fishing is one of the only fishing fleets permitted on Lake Tahoe, so for visitors hoping to catch their own dinner, this is the company that can make it happen. Bait a hook, throw a line and haul up salmon, trout and mackinaw from a variety of boats that cater to families and groups of all sizes. Kids might feel more comfortable on a small watercraft; professionals on a business retreat will appreciate the luxury of a 45' cruise liner. It all depends on how long you plan to be on the water and how many fish you hope to catch before calling it a day.
7: Hot Air Ballooning
For those traveling to Lake Tahoe between the months of May and October, a hot air balloon ride is an incredible way to experience the glory of West Shore or Incline Village. Adults can even enjoy a champagne toast as they skim the water and feel the spray on their face! This is only the beginning of the trip, however, because Lake Tahoe Balloons will take their passengers up, up and up, high into the blue sky and drifting easily among the clouds.
8: Water Activities
Fun for the whole family, Tahoe Water Adventures provides rentals by the hour for a wide variety of summer sports. Experienced athletes can take a kayak down the river; courageous souls can battle the waves with a jet ski or perform tricks on a wakeboard; the entire clan can hop on a boat and explore the lake until they find the perfect shore for swimming and sandcastles. For visitors who like to make their own fun, Tahoe Water Adventures is the company to seek.
9: Horseback Riding
Get off the usual trails by leading a horse through the Tahoe National Forest. Unlike hikers, horseback riders won't be limited to the power of their own feet, and the guides at the Alpine Meadows Stables will be more than happy to point out safe areas for exploring and galloping. Tours are also available for groups who just want to enjoy a leisurely stroll through beautiful pines on an equally beautiful steed. There are even ponies available for the little ones!
10: Helicopter Rides
Anyone can take a walking tour of Lake Tahoe, but few can say they've experienced it from hundreds of feet high. Enjoy breathtaking aerial views with a ride from Reno Tahoe Helicopters, which operates year-round and offers multiple trips for everyone from the acrophobic to the recklessly brave. For stunning photos and memories that will last a lifetime, this is one activity that can't be missed.
These are just 10 thrills to experience during a trip to Lake Tahoe. Visit http://www.TahoesBest.com for additional information, including reviews, plans and sales that can make your California vacation one of the best you've ever taken.
About TahoesBest.com:
Lake Tahoe is known for outdoor activities, pristine waters and one of the best wedding destinations in the country. TahoesBest.com is the authority on what to do, where to stay, weather updates and all the best upcoming events for any visitor. Use TahoesBest.com to find information, reviews and deals on all things Lake Tahoe from concerts to vacation rentals.