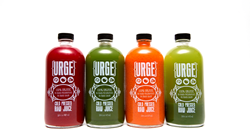 The cold pressed method is proven to yield a more nutrient dense juice because the produce is not heated or oxidized during preparation
Berkley, MI (PRWEB) May 08, 2014
Urge Juice (http://www.urgejuice.com) has been serving raw cold pressed juice since last summer at local farmers markets and pop up events, attracting a following hungry for the nutrient dense juice. Now, Urge Juice will bring its first retail store to Downtown Berkley, slated for a May 2014 opening.
"We started Urge Juice last summer at local farmers markets and are proud of the response, growth, and success we've seen. We had customers asking all the time where they could buy this juice everyday, and are glad to finally be able to make that a reality," said Urge Juice owner Paul Delmotte. Urge Juice focused on Berkley for its retail storefront because of the vibe and excitement the town offers for new and unique businesses, the ease of dealing with the city, and the support of the community. "Everyone I talked to said 'Come to Berkley!' Additionally, from Berkley we can also serve Beverly Hills, Royal Oak, Birmingham, Huntington Woods and the surrounding communities easily. It was a perfect fit," Paul remarked. Urge Juice will open at 3628 W. 12 Mile Rd, on the north side of the street, west of Coolidge. It is anchored by Biggby Coffee and Burger King.
Juicing is not a new practice or idea, especially to the health conscious who find themselves juicing many times per week, or even every day, to supplement a healthy diet full of fruits and vegetables. What Urge Juice brings that is new and different about juicing is the way the juice is prepared, made, and served. With the cold pressed method, a hydraulic press is used instead of a centrifugal juicer. "The cold pressed method is proven to yield a more nutrient dense juice because the produce is not heated or oxidized during preparation like it is with a centrifugal juicer, which is what most people are used to using at home or even finding in almost all juice bars." To top it off, Urge Juice uses 100% organic produce and serves the raw juice in 16o.z. glass bottles.
Served raw and pulp free, the micro-nutrients are available for immediate absorption. Raw means the juice is unpasteurized and not heat treated. Heat pasteurization kills the chance for any bad microbial growth and extends shelf life, but also cooks and kills the vital nutrients and enzymes. "I used to be one of those guys who would grab a plastic bottled juice from the grocery store and feel like I was doing something good for myself. After a little education, I realized I was drinking dead juice, void of nutrients and benefits," Paul admits. "With Urge Juice, my customers feel an instant energy surge that maintains. Couple that with the fact that you are drinking up to 5 lbs. of organic produce in every bottle, you are really feeding yourself the right amount of fruits and vegetables that we need everyday to be at our best," Paul adds.
Drinkers of cold pressed juice look to the juice to supplement their diet, or as a cleanse. Cleanse packages are available from Urge Juice in 1, 2, or 3 day increments. Additionally, with flavor offerings like "Liquid Garden" which consists of cucumber, kale, celery, ginger, and lemon or "Let The Beet Drop" which includes carrot, beet, apple, and lemon, customers are sure to find juices they will love.
The retail store, which will open towards the end of this month, is initially slated to be open Monday, Wednesday, Friday, and Saturday from 7a.m. - 2p.m. and will expand retail hours to meet demand. In addition, Urge Juice has booths set every weekend at The Royal Oak Farmers Market on Saturday, and The Birmingham Farmers Market on Sunday. Urge Juice will also debut at The Ann Arbor Farmers Market on Wednesday evenings starting June 4.
Paul remarks, "It's an exciting time for our company to be a part of this upswing in trend that we're experiencing here locally towards more diet and health awareness, and the impact they have on each other. The vibe at the Farmers Markets and surrounding community towards more raw, vegan, organic and specialty made foods is really cool. It feels good to be able to offer something that makes people feel good!"
About Urge Juice
Urge Juice is a raw, cold-pressed juice manufacturer and retailer in Berkley, MI. The cold pressed method of juicing provides a living, raw, and more nutrient dense juice with up to 5 lbs. of organic produce in every bottle.