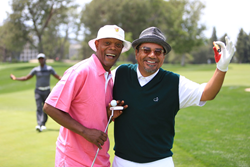 Los Angeles, CA (PRWEB) May 07, 2014
GBK (gbkproductions.com) - the luxury lifestyle gift lounge and special events company hosted the official gift lounge for the The Seventh Annual George Lopez Celebrity Golf Classic and the 2014 Mercedes-Benz Dealer Championships benefiting The Lopez Foundation on Monday, May 5th at the Lakeside Country Club in Toluca Lake, CA. Celebrities that attended the tournament include George Lopez, Anthony Anderson, Rob Riggle, Andy Garcia, Kevin Rahm, Andy Garcia, Don Cheadle, Samuel L. Jackson, Jesse Metcalf, Sugar Ray Leonard, and more.
Celebrity golfers were treated to a special gift lounge in support of The Lopez Foundation and received gifts and gourmet treats from the luxury brands including:
Burke Williams, who was on site gifting products from their exclusive in-spa skin care line called H2V; Margaritaville Apparel – gifting a hat, polo shirt, tee, CD and beach bag from their line of products which are rich in color, finish and feel; Millenium International Travel, gifting a certificate for 6 days/5 nights at any Mayan Palace resort; gifts and gift certificates from Alandales – Men's Clothing, Sportswear & Hair Studio; GloDea, a design company that creates unique consumer products with an exclusive design, gifting The Chair X36 – an eco friendly and stylish lounge chair; custom cufflinks from Made-Of-Stone, Luxury Men's Shirts; Herringbone Los Angeles, a must-try restaurant in Los Angeles nestled inside the swanky Mondrain Hotel, providing dinner for two gift cards; Mukul Beach, Golf & Spa – a boutique hotel in the Emerald Coast, south of Nicaragua a the pacific coast which features 37 keys, 2 restaurants, beach club, spa, golf course and more; MOCSOCS, gifting No-Show anti-slip socks and half socks; moisturizing soy candles and body butter from Milena's Candles; BestofLegacy, known for creating the Rolls Royce of press clip scrapbooks for celebrities, providing a gift certificate for their services; Curtis & Co., gifting their Limited Edition Curtis & Co. Time Pieces specially made for the George Lopez Celebrity Golf Classic; electronic cigars and hookahs in gourmet e-juice flavors from Tryst Electronic Smoking Products; and David Barton Gym, gifting 6 month complimentary gym memberships.
Golfers sampled delicious treats from gourmet sponsors including: Barry's Gourmet Brownies, a specialty bakery producing brownies with the highest freshness, quality, and taste – nationwide; a selection of savory snacks from Sabra, a leader in the refrigerated dips and spreads category and producer of Americas top-selling hummus; Ripped Cream, a natural protein coffee creamer; gifts from North Shore Goodies Home of The Original Coconut Peanut Butter; RealBeanz, an all natural iced coffee drink created with premium brewed coffee and enhanced with vitamins and energy-infused herbs; Le Pop Shop, a company that specializes in couture and original treats, –gifting their delicious Macarons and Cake Pops; and Stafford's Famous Chocolates, gifting their Taste of the Valley (Santa Ynez, CA) assorted box which features their Sea Salt Caramels, Red Wine Truffles, English Toffee and Lavender Truffles.
The foundation's mission is to create positive, permanent change for underprivileged children and adults confronting challenges in education and health, as well as increasing community awareness about kidney disease and organ donation. Following the tournament, there was a silent and live auction benefiting The Lopez Foundation. For more information about the foundation, please visit: http://www.thelopezfoundation.org.
# # #
ABOUT GBK:
GBK, formerly GBK Productions, is a luxury lifestyle gifting and special events company, specializing in entertainment marketing integration. Formed in 2000 by Gavin Keilly, the company's Founder and CEO, GBK consists of five divisions: GBK Celebrity Gifting, GBK Special Events, GBK Weddings, GBK Charitable Consulting and GBK Marketing/Public Relations. Widely known in the entertainment industry for bringing that little extra something into the Gifting Lounge environment, GBK offers its clients a full range of marketing services. For more information on Gavin B. Keilly (CEO), Carla Domen (VP) or GBK, please go to gbkproductions.com.