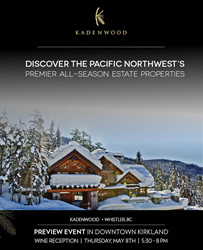 Discretionary home buying is making a comeback, especially in Canada where Americans can secure a 10% discount on the exchange rate, says Brad Vancour, former Warren Miller Films extreme skier and Realogics Sotheby's Broker.
Kirkland, WA (PRWEB) May 07, 2014
Representatives of Realogics Sotheby's International Realty announced today an exclusive, international marketing partnership with Victoria, BC-based Ecoasis to promote remaining lots and custom home sales at the never-before, never-again community of Kadenwood in Whistler, BC. The 60-lot, ultra-luxury residential enclave is perched at the highest residential elevation in Whistler – a mountain resort town located 4.5 hours north of the Seattle/Bellevue metro area. Now 80% sold, its promoters array world-class design, favorable currency exchange rates, enduring snow conditions and concierge-like amenities drawing affluent consumers from Puget Sound and from both interstate and international target markets.
"This marketing partnership has perfect timing – Ecoasis reset the value proposition at Kadenwood while our economy is thriving, our currency is rising and the snow is still falling in Whistler," said Dean Jones, Owner of Realogics Sotheby's International Realty. "Kadenwood provides Puget Sound consumers a compelling alternative to both local and destination ski resorts in the Northwest and throughout the Western United States."
Jones references a strengthening US Dollar, which has risen approximately 15% against the Canadian Dollar over the past three years alongside similar gains in consumer confidence, local real estate values and the Dow Jones Industrial Average, which have grown by even greater percentages.
"Discretionary home buying is making a comeback, especially in Canada where Americans can secure a 10% discount on the exchange rate," says Brad Vancour, a former Warren Miller Films extreme skier who now sells luxury properties with Realogics Sotheby's International Realty. "I've had the opportunity to descend some of the most exotic peaks and stay in the finest resorts around the world. And nothing compares to Kadenwood – it's a local treasure and a family heirloom in the making."
Accessed by a 2 kilometer private drive or a 3,000 foot long, exclusive-use gondola, the residences at Kadenwood are cited nearly 1,000 feet above the valley – the pinnacle of all-season resort living in Whistler. The protected views are reserved for a select view and boasts vistas of valley lakes and mountain ranges high above Whistler Creekside. The convenience of this ski-in, ski-out community is eclipsed only by the beauty of its natural surroundings. The last of its kind given Whistler's moratorium on addition development, remaining home sites (1/3 to 1-1/2 acres) at Kadenwood are offered from below $1 million (USD) and finished, custom homes (4,000 to more than 10,000 square feet) are available in presale from the low $4 millions (USD).
Vancour says the sales success at Kadenwood has established a real estate microclimate adding, "We're observing considerable strength with luxury housing demand in gateway cities and leading resort markets."
A preview event is being hosted at the Kirkland branch office of Realogics Sotheby's International Realty located at 15 Lake Street in downtown Kirkland from 5:00pm to 8:00pm on Thursday, May 8th. Additionally the community will be promoted in Mainland China during the Beijing Luxury Property Show being held on May 15-18th.
"A significant number of homeowners at Kadenwood are actually occupied fulltime by global citizens," says Jones. "Whistler has become a world-class address complete with private aviation options via Pemberton Airport and thanks to the 2010 Olympic Winter Games, the resort enjoys quick access by a new two-lane highway from Vancouver, BC. Its harbinger is mature ski villages in Idaho, Montana and Colorado but moreover Whistler offers twice the ski acres, more snow, a longer season and homes can be purchased at a fraction of the cost – not including the exchange rate benefit."
For priority information on Kadenwood, including an informative video visit http://www.OwnKadenwood.com.
About Realogics Sotheby's International Realty: As the leading global realty in the Pacific Northwest, Realogics Sotheby's International Realty operates branch offices in downtown Seattle, Bainbridge Island and downtown Kirkland. Ranked two years in a row among the "Fastest Growing Private Companies" in Washington State by the Puget Sound Business Journal, the collective of more than 90 brokers proudly represent buyers and sellers of all property types and price points both locally and internationally. Award-winning marketing, extraordinary brokers and a truly global network have combined to generate exceptional sales success one client at a time. Visit http://www.RealogicsSothebysRealty.com.
About Ecoasis: ECOASIS specializes in land acquisition and development of residential and resort real estate—signature properties that are enhanced for the benefit of not just the stakeholders but the surrounding communities as well. Currently the geographical focus of ECOASIS includes Hawaii, Whistler, and Victoria, BC. By partnering with the most experienced consultants, architects, engineering firms, marketing experts and construction companies, ECOASIS creates products of high quality and lasting value. ECOASIS has the advantage of being a closely held, well financed company.
Visit http://www.Ecoasis.com.