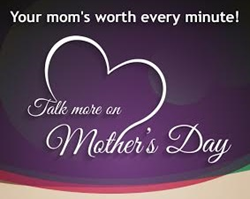 "Very easy to use. My mom uses it daily. Thanks" marciatex2, LigaproBrasil.com Customer.
Altanta, Georgia (PRWEB) May 09, 2014
Mother's day has been celebrated since Ancient Greece times, through different customs and traditions. Although the ways to celebrate it may vary, everybody knows how important it is to thank them, at least on Mother's Day, for everything they do throughout the year. To bring moms closer, no matter the distance, LigaproBrasil.com offers 10% bonus on all Voice Credit orders, so the customers could enjoy longer calls with their moms.
The offer is valid for any credit order of minimum $20 starting May 8th until May 10th. This means that for every $20 spent, customers will get $2 for free. The amount will buy exactly 1157 minutes to call landlines or 563 minutes to call mobiles in Brasil. And if mom is in Rio de Janeiro, the offer is even better: 1691 minutes for each $20 spent.
Customers may also use the free features that make the calling experience easy and intuitive: PINless dialing (once activated, entering PIN is no longer necessary) and Speed dial (assigning phone keys to the numbers called frequently, dialing is reduced to pressing a phone key).
iOS and Android applications are also available to place calls, without having to dial any access number first, and even any phone number at all. Destination numbers do not have to be remembered and dialed digit-by-digit. To this purpose, customers can use their phone's Contacts list.
In addition to promotional offers and attractive Voice Credit rates, LigaproBrasil.com also offers an efficient Mobile Recharge service, to send credit to mobile phones pertaining to family and friends at home. Tim, Vivo, Claro and Oi top ups to Brasil are available with values ranging from $7 to $50.
Customers may also access the Virtual Number service, a monthly subscription for the benefit of people back home. Thus, anyone calling the customers' Virtual Number will pay the regular rate of a local call.
Several security filters protect the customers from possible frauds, making the transactions safe. The customer-focused approach, based on safe and user-friendly services, is acknowledged by the customers' reviews as well: "Reliable and very reasonable prices. I've recommended it to several friends." (perealb-4229 on ResellerRatings.com), "Very easy to use. My mom uses it daily. Thanks" (marciatex2 on ResellerRatings.com).
About LigaProBrasil.com
LigaProBrasil.com is an interactive website designed by KeepCalling, a global telecommunications company registered in 2002 in USA. KeepCalling, the company behind LigaProBrasil.com, offers other telecom solutions apart from mobile recharge: Prepaid Voice, Virtual Number, Monthly Plans, WebFax, Web Call and Web SMS through various ethnic websites. Presently, KeepCalling provides its services to over 200,000 consumers and businesses, with a focus on customer satisfaction. In 2013, Inc Magazine listed KeepCalling as the 16th fastest growing company in the telecommunications industry.