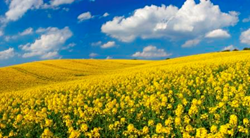 As proven by the 420Kv transformer, in Germany the door is opening on the use of natural esters.
(PRWEB UK) 13 May 2014
With the recent commissioning of the world's largest vegetable oil power transformer of 420kV by TransnetBW and NetzBW, the use of vegetable oil-based dielectric fluids has reached new heights. These fluids, also known as natural esters, differ from more traditional mineral oil-based transformer fluids in a number of key ways.
In the case of this large power transformer design, the environmental benefits of using a vegetable oil-based product were cited as the deciding factor for choosing natural ester. Ester-based fluids are far less harmful to the environment if spilled; for example, they are classified as non-water hazardous according to Umwelt Bundesamt (UBA) rules. In this case, this meant that containment costs could be reduced when compared to a mineral oil filled unit of the same size. In addition, vegetable oil-based fluids have the added benefit of a lower carbon footprint than mineral oil, which further enhances their environmentally friendly credentials.
Greater environmental protection is just one of the many benefits that natural esters offer. These dielectric fluids are also far more fire safe than mineral oil and are classified as K-class according to IEC regulations. Furthermore, laboratory studies undertaken by highly respected organisations within the electrical sector have demonstrated that natural esters have the potential to significantly extend the lifetime of transformers, by slowing the ageing of the insulating paper used within their structure. Add these advantages to the environmental benefits and natural esters are clearly the solution for now and the future.
For over 30 years MIDEL has been the world's leading brand of ester-based dielectric fluids, chosen by utilities and transformer manufacturers because of its excellent track record and ability to minimise risk. MIDEL eN, a European-manufactured natural ester, is rapidly earning widespread recognition as companies become aware of its many advantages.
Europe has a strong history of using ester based dielectric fluids; having adopted synthetic esters for power and distribution transformers located in water protection areas, in wind turbines and onboard traction rolling-stock.
As proven by the 420Kv transformer in Germany, the door is opening on the use of natural esters for ever more demanding technical specifications and soon it can be envisaged that a significant percentage of the electrical transformers in service will be unobtrusively and efficiently providing power to German homes and businesses by harnessing the superior benefits of natural oils.