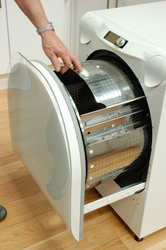 Slide open, drop in. One button controls all, easy, simple, efficient.
(PRWEB UK) 8 May 2014
Reason Washing Machine: Launched on Kickstarter with claims to be the best washing machine ever made and the greenest washing machine ever made.
Reason is launching this innovative product on its Kickstarter page and is offering the chance to be one of the first to get one of ten unique limited edition Reason Washing Machines two months ahead of the rest.
To express how advanced the Reason is compared to its nearest rivals Andrew Reason used a motoring analogy:
"The Reason, a 120 mile per gallon, compact 5 door family car for 12 passengers!"
Cars have not achieved this yet but the team at Reason say the Reason Washing Machine has made this massive leap.
The Reason team claim they have designed a world class product that eclipses current washing machines for ease of use, capacity and energy efficiency.
The Reasons unique design and patented technology could save users approximately £779 in the combined running costs of electricity, water and detergent over an eight year period, based on a family of four doing eight washes per week. This is a massive saving for the consumer and the environment.
Washing machines are not trendy or cool or a must have accessory, but they are a necessity. They are taken for granted, and users don't fully appreciate how much laundry their machine can really wash and how much energy they use and waste.
When consumers use a washing machine do they really want to waste unnecessary time, or valuable resources such as water, electricity and detergent? The team at Reason don't think so.
Reason have therefore been totally focused on delivering a washing machine that will save significant time, scarce resources and put money back in the user's pocket.
Reason has bold ambitions and would like all washing machines to be like theirs. This is highly unlikely, but…
If all the washing machines sold globally over the next 12 months were a Reason and those machines were used for a whole year, at the end of that year with average use we could save the equivalent water of two days flow over the Niagara Falls, enough electricity to turn an average coal fired power station off for ten days and enough detergent to fill thirty Olympic size swimming pools.
These are bold claims and Reason will use their unique new concept, The Global Test House to substantiate and make public to all the true running costs of the Reason compared to the true running costs of other best in class machines.
Andrew Reason, inventor and designer of the Reason stated:
"The Reason Washing Machine can make a real difference. Not using a Reason is like wasting time to make an inefficient open fire to heat your home and then opening the front door to allow the heat out!"