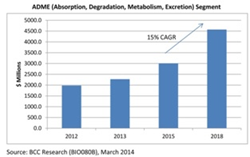 Global Market For Cell-Based Assays To Reach Nearly $21.6 Billion In 2018
(PRWEB) May 07, 2014
BCC Research (http://www.bccresearch.com) reveals in its new report, CELL-BASED ASSAYS: TECHNOLOGIES AND GLOBAL MARKETS, the global cell-based assays market is expected to grow to nearly $21.6 billion by 2018, with a five-year compound annual growth rate (CAGR) of 12.4%. The ADME (absorption, degradation, metabolism, excretion) segment is the fastest moving subsegment with a CAGR of 15%
Cell-based assays have emerged as a more relevant alternative to biochemical assays involving the use of purified proteins especially in the field of drug discovery.
Drug discovery for validating drug targets/lead profiling assays is the largest segment in this market in terms of revenue and is expected to grow to $15 billion by 2018. However, ADME and toxicology testing, a critical component to drug development, is the fastest moving segment, growing at a tremendous CAGR of 15%. This segment is expected to reach a global value of nearly $4.6 billion in 2018.
"This market is being driven by new technology innovations and high-throughput screening (HTS) systems," says BCC Research biotechnology analyst Ushu Nagavarapu. "In addition, a need exists to discover the functions of different proteins which can further help in potent drug development. By using bioassays in automated systems, characterization of a large number of drug targets and candidates is possible and the drug-discovery process can be made more efficient."
CELL-BASED ASSAYS: TECHNOLOGIES AND GLOBAL MARKETS provides a detailed overview and thorough analysis of the present and future global market for cell-based techniques. It includes current issues and trends affecting the industry and costs, and factors influencing demand will be discussed. The report covers products in development, new technologies, trends, alliances, and mergers. It offers market data with respect to segments and geography. In addition, this report provides market trends with respect to drivers, restraints, and opportunities.
Editors and reporters who wish to speak with the analyst should contact Steven Cumming at steven.cumming(at)bccresearch(dot)com.
About BCC Research
BCC Research publishes market research reports that make organizations worldwide more profitable with intelligence that drives smart business decisions. These reports cover today's major industrial and technology sectors, including emerging markets. For more than 40 years we've helped customers identify new market opportunities with accurate and reliable data and insight, including market sizing, forecasting, industry overviews, and identification of significant trends and key competitors. We partner with analysts who are experts in specific areas of industry and technology, providing unbiased measurements and assessments of global markets. Our clients include the top companies in industries around the world as well as universities, business schools, start-ups, consulting firms and investment companies. BCC Research is a unit of Eli Research LLC. Visit our website at http://www.bccresearch.com. Contact us: (+1) 781-489-7301 (weekdays, U.S. Eastern time), or email help(at)bccresearch(dot)com.
Data and analysis extracted from this press release must be accompanied by a statement identifying BCC Research LLC, 49-2 Walnut Park, Wellesley, MA 02481, Telephone: (+1) 781-489-7301; Email: editor(at)bccresearch(dot)com as the source and publisher. Thank you.