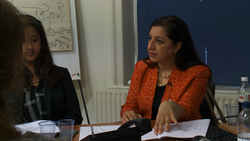 "It was good to have the opportunity to have a nuanced debate about this important topic, rather than just sound bites".
London, United Kingdom (PRWEB UK) 7 May 2014
In the wake of the launch of Sharia Watch UK and the Law Society's issuing of guidelines to lawyers on how to draw up wills according to Sharia teaching, Aina Khan along with Anne Marie Waters from Sharia Watch UK, spoke to Voice of Russia UK's Tim Ecott on 30th April 2014.
The Law Society published its practice note on 13th March 2013- it is to be used to assist solicitors with use of Sharia law succession rules. Particular areas included; will drafting, trust issues and disputes over estates.
According to the Law Society website "This is the first time guidance has been published for solicitors to assist them with the intricacies of Sharia succession rules, which is the code of law derived from the Quran and from the teachings and example of Mohammed."
This means that clients in the England and Wales have the option to legally bequeath their assets according to Sharia Law, granted that the will is signed in accordance with the requirements set out in the Wills Act 1837.
Following this decision by the Law Society, a new group 'Sharia Watch UK' was launched on 24 April 2014 at the House of Lords, claiming to "campaign for greater recognition" of the perceived "threat posed by Islamic Sharia law".
The group's spokeswoman Anne Marie Waters, and Aina Khan, Head of the Islamic Department in Legal 500 recommended Law Firm Duncan Lewis Solicitors and the leading Solicitor who specialises in applying Sharia law within the English legal system, spoke to Voice of Russia UK's Tim Ecott for a second in-depth interview "In Conversation: Where there's a will there's a way for argument", which was aired on 30th April 2014.
Aina Khan said of her appearance - "It was good to have the opportunity to have a nuanced debate about this important topic, rather than just sound bites".
A link to the interview transcript and full audio can be found here.
About Aina Khan
Aina Khan is Head of the Islamic Department at Legal 500 recommended law firm Duncan Lewis Solicitors. She is recognised as the leading specialist in Islamic Law in the UK.
Aina regularly makes TV, radio and press appearances. She has also advised parliamentarians and academics on Islamic Law and frequently speaks at the Houses of Lords and Commons as well as lecturing at Universities and community events.
About Duncan Lewis Solicitors
Duncan Lewis Solicitors, established in 1998, is the largest civil legal aid practice in the UK and one of the country's fastest growing firms of solicitors, serving both corporate entities and private individuals from offices across London and throughout the UK. A recommended leading law firm by Law Society Lexcel, Legal 500; Duncan Lewis employs over 500 members of staff and was the first law firm to achieve the Investors in People Gold Quality Standard Mark in 2009. Representing over 25,000 clients per year, the company has an excellent reputation in the Administrative Court, High Court and Court of Appeal in the Immigration, Public law and Family/Child Care jurisdictions.
Established areas of law are: business immigration, child care, civil liberties, clinical negligence, community care, crime and fraud, dispute resolution, debt and insolvency, employment, family and divorce, housing, asylum and immigration, litigation, mental health, personal injury, prison law, professional negligence, public law and administrative law, regulatory matters and welfare benefits.