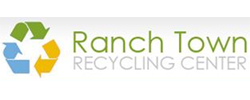 San Jose, CA (PRWEB) May 07, 2014
Earth Day has come and gone but keeping the community clean is a year-round opportunity, and San Jose's Ranch Town Recycling wants to help.
Consumers are increasingly concerned about reusing and recycling. Spring is traditionally a time where people clear out their attics, garages and storage units but are unsure of where to go with the items they wish to discard. Taking them to a dump site or land fill is one option, but during this spring cleaning-geared time of the year, Ranch Town Recycling has a better idea.
Reducing carbon footprint, consistent recycling and reusing items that cannot be reused or donated to a charity, are the most sought out ways to be eco-friendly. However, as technology expands more people are finding that their old electronics are really starting to gather dust. Items like these are not as easy to reuse and are more susceptible by many to be thrown away and brought to the dump.
Ranch Town Recycling wants to encourage those taking on the tough tasks of spring cleaning to bring their old fax machines, printers, old computers, phones, televisions, monitors and other electronic devices to their site.
The recycling center is open 7:30 a.m.-6 p.m. Monday through Friday and 7:30 a.m.-5:30 p.m. Saturday through Sunday.
Sulemon Valani, owner of Ranch Town Recycling Center, wants to help educate the public about how recycling is important to the community and the world. To learn more, visit http://www.ranchtownrecycling.com or call 408-292-3333.
About the company:
Ranch Town Recycling understands the importance of being green and is committed to working with and helping the community, schools and businesses become proactive about recycling, which is extremely economically and environmentally smart. Ranch Town Recycling provides services to several different areas throughout the Bay Area, including the South Bay. Ranch Town Recycling's prices are very competitive and the facility is open seven days per week for the utmost in client convenience. Copper recycling, e-waste recycling and scrap metal recycling are available. For more information, please visit their website at http://www.ranchtownrecycling-bayarea.com.