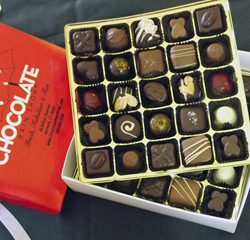 On Mother's Day, tell her 'I love you' with melt in the mouth handcrafted chocolates.
Norwalk, CT (PRWEB) May 07, 2014
Mother's Day is right around the corner, and it's time to find the perfect gift for Mom. Chocolate Rain Shop has just the thing. Instead of impersonal gift cards or trying to guess her dress size, get Mom something she'll really love: chocolate.
According to a study by the Journal of Psychosomatic Research, chocolate is the most commonly craved food by women. Chocolate made up 49 percent of all cravings in the study and was found to even have mood-improving qualities. More information about the study can be found at http://www.sciencedirect.com/science/article/pii/002239999490068X.
There has also been growing evidence of the health benefits of chocolate such as being a powerful source of antioxidants, outperforming even blueberries and acai berries in antioxidant activity.
Chocolate Rain Shop in Norwalk, CT specializes in crafting custom chocolate gift baskets that would be the perfect treat for any special woman. The shop also has a full selection of chocolate treats as well as French macaroons to select from, and customers can even stop in for samples.
Recently, Chocolate Rain Shop participated in a Kentucky Derby Party on May 3, where patrons were treated to their custom handmade chocolates, hand rolled smoked cigars from the Connecticut Cigar Company and fresh cocktails.
Chocolate Rain Shop encourages their customers to stay up to date on their special events and discounts by following them on social media. For more information about the chocolate shop, call 203-956-6000 or visit their website at http://www.chocolaterainshop.com/.
About the company:
Chocolate Rain Shop offers a wide variety of handmade artisan chocolates, chocolate covered strawberries, chocolate gift baskets, popular French Macrons, and cakes at their cozy shop where patrons are welcome to sit and enjoy a cup of gourmet hot chocolate, coffee or enjoy an afternoon English Tea. Chocolate Rain Shop is located at 69 Wilton Ave. Norwalk, CT 06851. Call today at (203) 956-6000. They deliver locally and ship nationally.