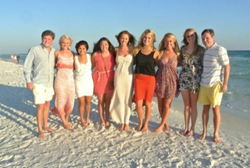 Thank you for an amazing week staying at the Pineapple Cabana. It will truly be a lifelong memory!
Destin, FL (PRWEB) May 07, 2014
Many people may have heard about college students behaving badly while visiting the Emerald Coast during spring break this year. However, most probably never hear about the thousands of students who come to the lovely beaches of Destin, FL to relax, have fun and never cause problems. Easy Street Pet Friendly Vacation Rentals is proud to announce that this spring break, they didn't have any problems with the spring breakers who rented from them.
Some owners choose not to rent to college students. Easy Street has been welcoming spring breakers to their properties for over 11 years. They credit their success to the effective screening and monitoring system used to manage their "more exuberant" guests. It begins with a thorough phone interview where they go over the "house rules" and explain the type of responsible behavior expected before booking a reservation.
At check-in, Easy Street personally greets guests and once again goes over the "house rules" that include no unregistered guests and no rowdy parties. They also drive by each house every night to be sure guests are not disturbing neighbors with loud music or wild parties. This extra attention has paid off with little or no damage to property, happy neighbors and satisfied guests.
One recent group took the time to write, "Thank you so much for leasing us your beautiful house! It was just perfect for us, met our every need and really made our vacation time carefree and enjoyable. Without your trust and generosity of spirit, our spring break would have been a whole lot different. Know that you have made a lot of very fun-loving and now, very close sorority sisters very grateful. Thank you for the study break we wanted, the sisterhood time we needed, and the fun memories that came with both!"
Another group sent this note, "Thank you for an amazing week staying at the Pineapple Cabana. It will truly be a lifelong memory! We left a few items in the pantry we thought the next group staying there would find useful. Thanks again."
The kids who are rowdy and destructive get a lot more attention from the media and locals, but Easy Street is happy to welcome the majority who are respectful of the property and just want to have a nice time at the beach. To reserve a spot in paradise, contact Easy Street Pet Friendly Vacation Rentals at http://www.easystreetvacationrentals.com/ for more information and to view homes, availability and pricing.
About the company:
Rick and his wife Debbie started Easy Street Vacation Rentals in 2003 because of the frustration they felt in trying to find pet friendly vacation accommodations. They have traveled with their pets for years. Some of the places they stayed were less than clean, and it was obvious by the smell that the accommodations allowed pets. They vowed when they started their vacation rental business that all of their homes would be pet friendly and all squeaky clean. For more information, please visit their website at http://www.easystreetvacationrentals.com.