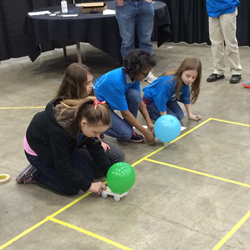 We thank Toyota and their employees for donating their time and talents to help make this program a success. - Director of the SAE Foundation
Detroit, MI (PRWEB) May 07, 2014
26 members of the Toyota Technical Center team will visit Heritage Elementary School in Saline, Mich., on Friday, May 9, as part of SAE International's A World In Motion® (AWIM) program.
AWIM is a teacher-administered, industry volunteer-assisted program that brings science, technology, engineering and math (STEM) education to life in the classroom for students in Kindergarten through Grade 8. Benchmarked to national standards, the AWIM program incorporates the laws of physics, motion, flight and electronics into age-appropriate hands-on activities that reinforce classroom STEM curriculum.
The Toyota team members will engage all 400 of the Heritage Elementary 4th grade students in the JetToy Challenge. In the JetToy Challenge, students provide a variety of interesting designs for a new line of balloon-powered vehicles made from inexpensive, common materials that will appeal to other children. Working in design teams, students build and test model JetToys using different nozzles, and collect and analyze data to understand the effect of nozzle size on the performance of the toys. They will create other designs and test them, then give a formal presentation of their final JetToy designs.
"AWIM is an amazing program that opens a window of possibilities for students as they discover the exciting application of science principles and learn about rewarding engineering, science and technical careers," Lori Gatmaitan, Director of the SAE Foundation, said. "But it's only made possible because of the tremendous support provided by our industry partners. We thank Toyota and their employees for donating their time and talents to help make this program a success."
"It's a great way for Toyota to give back to the community and place an emphasis on the importance of STEM programs." Cheryl Anderson, Manager, Engineering Data Managemet,Toyota, said, "It's also important to me, as a female engineer, to volunteer for this activity because I feel like it's part of my job to show younger girls that engineering is not only for men."
Senior engineer for Toyota Technical Center, Faye Zaski, said, "I never had anything like this when I was in school. I want to encourage kids to go into engineering, and I want them to understand the diverse world of it."
For more than 35 years, Toyota Technical Center (TTC), a division of Toyota Motor Engineering & Manufacturing, NA, Inc. has been the driving force behind Toyota's North American engineering and research & development activities. Established in 1977 and headquartered in Michigan, TTC has R&D facilities in Ann Arbor, Saline, Plymouth and Livonia. TTC also operates R&D facilities in California and operates the Toyota Arizona Proving Ground near Phoenix. TTC employs over 1,150 team members and is engaged in engineering design, vehicle evaluation, materials research, prototype building, powertrain tuning, safety/crashworthiness, regulatory affairs and advanced research for Toyota and Lexus vehicles manufactured or sold in North America. TTC has developed the Avalon, Camry, Sienna, Tacoma, Tundra, Venza and RAV4 EV.
The SAE Foundation is the charitable arm of SAE International that strives to encourage and increase student participation and achievement in science, technology, engineering and math through educational programs, including A World In Motion® and the Collegiate Design Series™. SAE International is a global association of more than 145,000 engineers and related technical experts in the aerospace, automotive and commercial-vehicle industries. SAE International's core competencies are life-long learning and voluntary consensus standards development.