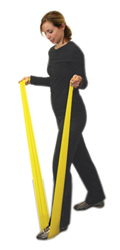 Wynnewood, PA (PRWEB) May 08, 2014
The CanDo Latex-Free Exercise Band has been used by physical therapists, athletic trainers, rehab and fitness centers, athletes and patients since 1987. Orthoco now offers these CanDo bands in single patient packs, which allows patients flexibility so they do not have to buy in bulk. The CanDo band is compact, light and durable and measures 4 feet long and 5 inches wide. It has no scent or powder, and can be used alone or with accessories. Each band is color coded according to band resistance. The least to most resistant band colors that Orthoco carries are yellow, red, green, blue, and black. A single band at Orthoco can range from $3.20-$4.70 plus shipping.
Check out the following website to see more information about the single bands Orthoco offers: http://www.orthoco.com/Can_Do_Exercise_Band_Blue_Single_Pack_p/f10-5604.htm.
Orthoco, Inc. suggests that athletes or those recovering from an injury should talk to their physician, therapist or trainer about the use of CanDo bands. Over the years, the CanDo band has been successful for upper and lower body exercise. The versatility of the CanDo band allows patients or athletes to use it for exercising practically every part of the body, including abs, arms, shoulders, legs, back, biceps, and chest.
Orthoco currently offers 50 yard exercise bands in latex and will be offering latex-free 50 yard bands soon.
Some exercises patients or athletes can do are listed and described below:
The Resisted Pushup is one exercise that can be used with the CanDo band. After getting into a push up position, grab one end of the CanDo band in each hand and stretch it across the upper back/shoulders and do 15 reps in a row to get the desired effect. This will exercise the chest, arms, abs, and back.
The Bridge Kick Press is great for working out the gluteus, legs, and shoulders. Lying face up, loop the CanDo band around the bottom right foot and hold both ends evenly with arms bent, palms facing in. After lifting the hips off the floor, extend the right leg and press both arms overhead. Then return back to the original position. Do 10 reps with the right leg and then 10 with the left leg to fully utilize the work out.
More exercises for the CanDo band can be found at: http://www.huffingtonpost.com/2013/11/04/resistance-band-workout_n_4159039.html.
Orthoco, Inc. (Established in 1995)
Orthotics, Durable Medical Equipment, Clinical Office Supplies and Equipment.
OrthoCo, Inc. provides clinicians and patients with the finest quality, cost effective medical supplies and equipment available. OrthoCo continues to provide useful products and information assistance to patients, occupational and physical therapists, physicians, chiropractors, and massage therapists.
We understand the important purpose of the products we carry; and the role they play in assisting in patient recovery. OrthoCo strives to provide the best products, because their performance is integral to the successful, timely recuperation of the patient.
OrthoCo, Inc.
1445 City Line Ave, Suite 6B
Wynnewood, PA 19096
Web: http://www.orthoco.com
Toll-free (in U.S.): 1-888-422-4777
Phone Number: 856-795-6900
Fax Number: 856-795-6922