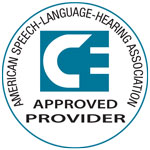 Plano, TX (PRWEB) May 14, 2014
Speech-language pathologists now have access to six new, approved Seminar-on-Demand continuing education courses from provider HomeCEUConnection.com. The newly approved courses have been added to the catalog in time to recognize Better Hearing and Speech Month, whose goal is to increase awareness of the importance of early detection of communication disorders.
Speech-language pathologists are encouraged to use the promo code BHSM2014 when ordering any of these six new CEU courses before June 15th in order to take advantage of the discounted pricing.
-Behavioral and Daily Challenges with Children with Autism (0.20 ASHA CEUs)
This course explores the use of strategies and supports that a child on the autism spectrum can employ to ease transition, improve task initiation and completion, and better improve overall function.
-Mining Gold from Complicated Adults Cases: Differential Treatment Techniques, Activities and Tools (0.30 ASHA CEUs)
This course presents detailed, robust clinical studies of clients who presented with mixed symptoms related to stroke and head injury to develop a creative and ongoing recovery program for each client.
-Social Skill Modeling for Children with Special Needs (0.20 ASHA CEUs)
This course discusses the barriers a child with special needs may have when communicating and functioning in daily life and across social settings.
-Start Your Telepractice Now! (0.30 ASHA CEUs)
This course primarily focuses on how to start and grow a telepractice by discussing and updating administrative concerns such as professional, regulatory, and technological information relative to telepractice.
-The Aphasia Practice Coach Program (0.50 ASHA CEUs)
More than 1.2 residents of the United States and Canada continue to suffer the socially-isolating and independence-robbing effects of aphasia and its related disorders. This course prepares any person who wants to help a person with aphasia communicate most effectively in everyday situations and to assist the PWA in maximizing his/her recovery.
-When Your Young Client Is Defiant: Simple Strategies to manage Defiant/Challenging Behavior (0.30 ASHA CEUs)
Behavior triggers and strategies discussed in this course enable clinicians to effectively manage caseloads, while being a support source for clients' professionals, teachers, educators, and parents/caregivers when dealing challenging behavior in a young client.
Whether facing an imminent CEU deadline or wanting to get a jump start on their next continuing education renewal, now is the time for speech-language pathologists to take advantage of cutting edge courses at great prices.
SLPs are encouraged to visit the catalog now and enter the promotional code BHSM2014 to take advantage of special pricing on all six newly approved courses before June 15th.
About HomeCEUConnection.com
HomeCEUConnection.com is an ASHA approved provider and leader in quality online continuing education courses for Speech-Language Pathologists, Physical Therapists, Physical Therapist Assistants, Occupational Therapists, Occupational Therapist Assistants, Athletic Trainers, Massage Therapists, and Certified Strength and Conditioning Specialists. We offer convenient, affordable and user-friendly courses that can be found in our growing course catalog.