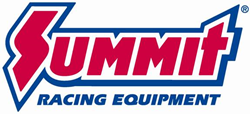 Tallmadge, OH (PRWEB) May 12, 2014
The direct-fit Flex-a-lite Aluminum Radiator and Fan Kit features a two-row, crossflow style aluminum radiator with internal fins that act as heat sinks. Those fins absorb heat more quickly from the engine coolant and radiate it through the radiator's external fins to dissipate the heat more efficiently.
The 16 inch diameter electric fan can force 3,000 cfm of airflow through the radiator. The fan covers 100 percent of the core and is fully shrouded. That improves cooling capacity by as much as 40 percent over an unshrouded fan. The fan can be used as a pusher or puller and features reversible blades. A variable fan speed controller, wiring, and mounting hardware are included.
Summit Racing even has a Flex-a-lite Aluminum Radiator and Fan Kit Jeep JKs with a late model Chrysler Hemi conversion.
PART NUMBERS
FLX-52388 Radiator and Fan Kit for 2007-13 Jeep JK
FLX-52389 Radiator and Fan Kit for 2007-13 Jeep JK with Chrysler Hemi conversion
Summit Racing Equipment
http://www.SummitRacing.com
1-800-230-3030