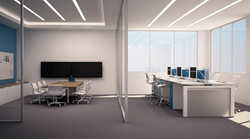 This standing height innovation is a result of Innovant rethinking & reinventing its FORm_office product for greater ergonomic, aesthetic & cost benefits.
Chicago, IL (PRWEB) May 13, 2014
Innovant is proud to announce its display at the Merchandise Mart for NeoCon 2014 in Chicago, June 9-11.
The new FORm_AV series of conference room furniture solidifies Innovant's position as a go-to partner for companies seeking a robust, yet flexible video conferencing solution. Also on display, FORm_office Standing Height is an advancement of Innovant's award-winning FORm_office Adjustable Height product. This standing height innovation is a result of Innovant rethinking and reinventing its FORm_office product for greater ergonomic, aesthetic and cost benefits.
Innovant has been repeatedly recognized as a renowned industry leader and pioneer of workstation design. In 2012, the manufacturer won Best of NeoCon in benching for FORm_office Adjustable Height. In 2010, Innovant's FORm_office product received the Silver Award for Innovation at IIDEX (NeoCon Canada). This year, Innovant hopes to take home an award for its innovative designs in Contract Magazine's Best of NeoCon or Interior Design's HIP at NeoCon competitions.
Innovant's products will be exhibited in booth 3130C on the 7th floor of the Merchandise Mart, where NeoCon is held. NeoCon is the largest design exposition in North America, featuring more than 700 showrooms and exhibitors and nearly 100 CEU-accredited seminars for over 40,000 architecture and design professionals. Other products can be viewed by appointment in Innovant's Chicago showroom at 440 North Wells Street, Suite 310, located just around the corner from the Mart. To schedule an appointment, please contact info(at)innovant(dot)com or your local representative.
The FORm_AV and FORm_office Standing Height products on display are available to all Innovant clients, with or without tailored elements.
For more information about Innovant, its FORm_AV or FORm_office product lines, please visit http://www.innovant.com. Register now to receive Innovant's latest product updates and company news.
About Innovant: Innovant is a renowned industry leader creating intelligent, adaptable furniture for the modern workplace. With a flagship showroom located in New York, Innovant maintains a worldwide network of offices and showrooms spanning North America, Europe and Asia. Innovant's substantial contributions to office and trading floor environments not only stem from its superior products, but also from the close collaboration Innovant supplies to clients, their architects and designers.