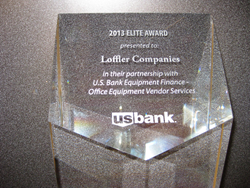 Our wonderful partnership with [US Bank] allows us to offer so many options to our customers, making the financing process flexible, quick, smooth and satisfactory for everyone. Neil Lee, CFO, Loffler Companies
Minneapolis, MN (PRWEB) May 30, 2014
Loffler Companies, a leader in providing integrated business technology and services in the Upper Midwest, has been recognized by US Bank as an Elite Partner for the fifteenth consecutive year. The Elite Award is given to partners with an annual lease volume of $10 million and above. Loffler's leasing volume increased by 35% over 2012 earning them a top 10 rank in the country for US Bank office equipment leasing companies.
"We are truly honored to be recognized as an Elite Partner by US Bank again in 2013," said Neil Lee, Loffler Companies CFO. "Our wonderful partnership with them allows us to offer so many options to our customers, making the financing process flexible, quick, smooth and satisfactory for everyone."
Loffler provides unique solutions in supporting clients in the effective implementation of business solutions with its knowledgeable and dedicated team of IT and Software & Workflow Technology professionals. Loffler's offerings include multifunctional copiers, printers, managed print services, IP phone systems, IT managed solutions, document management, voice recording, and on-site people-based management of copy and mail centers. Loffler Companies partners with leading brands such as Canon, Konica Minolta, HP, Lexmark, Toshiba, OCE, Microsoft, NEC, and ShoreTel to deliver the best solutions to organizations of all sizes.
Loffler Companies has been named to the Inc 5000 list of "Fastest Growing Privately-Held Companies in America" for seven years in a row, as well as being a StarTribune "Top Workplace" for the past three years. The Jefferson Award for Public Service was awarded to Loffler Companies in 2012, recognizing Loffler employees' long history of giving back their time, talent, and financial resources to the community.
About Loffler Companies
Founded in 1986 by Jim Loffler, Loffler Companies provides business technology and services to improve a client's productivity and bottom line results. Today, Loffler has 360 employees supporting Minnesota and Western Wisconsin clients whose businesses are local, national and international in scope. For more information about Loffler Companies and how it can help your organization succeed, please call Loffler at (952) 925-6800 or visit http://www.loffler.com