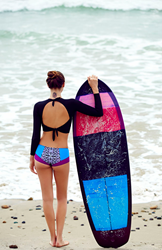 Our goal is to outfit our customer for every aspect of life and being active is a huge part of that.
Philadelphia, PA (PRWEB) May 07, 2014
On May 12th, 2014, specialty clothing brand, Free People, will grow its FP Movement line to a more expansive yoga collection, and simultaneously branch in two new lifestyle categories: ballet and surf. Fans will be able to shop the new collection of approximately 30 new Free People styles alongside specially developed accessories and apparel to accommodate each active lifestyle. Designed with a free-spirited fashion aesthetic, the FP Movement apparel line will have an average retail price range of $48-$148, and will be sold exclusively on FreePeople.com. While the current line is focused on yoga apparel and accessories, the expansion will allow the brand to address other ways in which its customers stay active.
The new collection has been created with current Free People trends in mind and will be presented in a new FP Movement online shop where customers can browse by their desired sport.
The yoga collection includes cropped leggings, hot yoga shorts, strappy bras, and tank tops in a pallet of earthy oranges and bold plums. To round out the true yogi lifestyle, Free People will offer a JadeYoga® yoga mat developed exclusively for Free People in the brand's signature pink color. Also available will be stainless steel water bottles from Klean Kanteen® that feature etched artwork from in-house Free People artists.
The ballet collection features a soft color pallet of feminine blushes and creams with touches of grey to add a hint of tomboy style. The assortment includes unitards, sports bras, and traditional sleeved wrap tops along with a collection of vintage apparel that includes tutus, hand-painted pointe shoes, shrugs, and more.
The all new surf collection is perfect for sunshine and sand with splashy prints, bold cutouts, and unique silhouettes across a line of rash guards, cropped rash guards, high-waisted swim bottoms, and swim tops all in a nylon spandex blend. The shop will also include surf board bags as well as a selection of one-of-a-kind hand painted surfboards, each retailing for approximately $4,000.
"Our goal is to outfit our customer for every aspect of life and being active is a huge part of that," says Sheila Harrington, Free People Chief Merchandising Officer. "We're excited to inject her workouts with some Free People flavor, whether she's a romantic dancer, a bohemian yogi, or a carefree surfer, we will have something to offer her. Plus there could be more to come."
To celebrate FP Movement's new launch, Free People has partnered with JetBlue to take 10 winners on 'The Pura Vida Getaway,' a surf and yoga retreat in Nosara, Costa Rica from May 27th – June 1st. Yoga enthusiast, Rachel Brathen, will lead the retreat filled with days of yoga, surfing, and wellness for the lucky winners.
The new FP Movement collection will launch on May 12th, 2014 with new collections delivering bi-monthly going forward.
###
About Free People
Free People is a specialty clothing brand featuring the latest trends and vintage collections for women who live free through fashion, art, music, and travel. The eclectic look consists of quality apparel, shoes, and accessories that invoke attributes of femininity, spirit, and creativity with its design. Free People is distributed globally via direct channels including the Free People Global site and Free People UK site, as well as specialty boutiques, top department stores, and the brand's free standing retail locations in the U.S. and Canada.