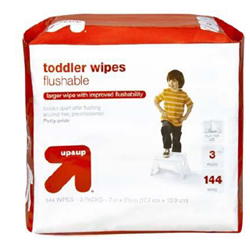 Marketing the product as "sewer and septic safe" is false and that claim is costing homeowners hundreds and municipal sewage systems millions
Cleveland, Ohio (PRWEB) May 08, 2014
A class action lawsuit filed against Target claims that the retailer's up & up® flushable wipes are allegedly improperly marketed as being "flushable" and "septic safe" when they are not. According to the complaint in the case, this misrepresentation has allegedly caused significant financial harm to homeowners and sewer systems alike.
The lawsuit (Filed in The United States District Court in Youngstown, Ohio, Case: 4:14-CV-00832) specifically contends that the representations on the packaging of up & up® wipes and on Target's website that the wipes are "flushable," "break apart after flushing," and are "sewer and septic safe" are false and misleading. According to the lawsuit, both testing and real-world experience – including that of the plaintiff – have proven that the wipes do not disperse after flushing and instead allegedly clog and damage sewer lines and septic systems.
The lawsuit follows on the tail of recent news reports citing significant problems encountered by municipal sewer systems associated with "flushable" wipes. A Cincinnati Business Courier article (embed: http://www.bizjournals.com/cincinnati/news/2013/09/16/pg-kroger-wipes-make-clean-up-easy.html?page=all) from September 17 of last year reported that Cincinnati "spends about $100,000 each year to clean wastewater treatment pumps and free them of non-soluables such as baby and wet wipes." Similarly, a New York Post article (embed: http://nypost.com/2014/03/02/flushable-wipes-clogging-up-drains-citywide/) from March 2 of this year reported that "[New York] city spends $18 million a year to collect and discard debris caught in machinery at its 14 wastewater-treatment plants — and nearly all of it in recent years is flushable wipes," according to Deputy Commissioner Vincent Sapienza. "The increase in clogs and problems we've been having in New York City — it seems to almost correlate directly with the increase in sales of these flushable wipes."
According court documents and Spangenberg Law Firm attorney Daniel Frech, who also represents the plaintiff, "Consumers have been led to believe that the wipes are as safe to flush as toilet paper and that they begin to disperse seconds after flushing – however, it appears that just isn't true." Frech continues "and the same problems cities are reporting on a large scale are affecting consumers' plumbing at home as well."
The lead plaintiff purchased up & up® brand flushable wipes from a Target store in Boardman, Ohio. According to the lawsuit, the plaintiff used the wipes primarily for potty training his daughter and disposed of the wipes by flushing them down his toilet as directed. The Plaintiff says he started noticing problems with the plumbing in his house in the summer of 2013. The lawsuit alleges that when the Plaintiff hired a plumber to diagnose the problem, it was discovered that the up & up® flushable wipes had caked together in the plumbing and septic system, causing a blockage. The lawsuit claims that the plumber charged the plaintiff approximately $210 to flush the pipes and septic system and informed the plaintiff that it may be necessary to replace the system at a cost up to $20,000.
The civil action, captioned Meta v. Target Corporation, was filed in the U.S. District Court for the Northern District of Ohio, Youngstown Division, on behalf of all consumers in Ohio who purchased Target-brand up & up® flushable wipes.
The plaintiff is represented by the law firms of Spangenberg Shibley & Liber LLP and Tycko & Zavareei LLP and consumers with similar issues or with information about brands of wipes that claim to be flushable but are not are encouraged to contact attorney Daniel Frech at Spangenberg Shibley & Liber LLP.