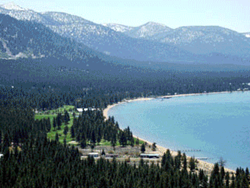 There is a little bit of everything in Lake Tahoe, so no matter when you visit there will be something fun to do.
Lake Tahoe, CA (PRWEB) May 08, 2014
Lake Tahoe offers visitors and families a unique blend of benefits and amenities that are year round. So, regardless of whether folks arrive in the summer or the winter, there is plenty to do for families as well as grown-ups. There is never a bad time to visit, and today, VirtualTahoe.com announced ten reasons why the next trip should be to Lake Tahoe.
"There is a little bit of everything in Lake Tahoe," explains Lindsey Skinner, editor of VirtualTahoe.com. "So no matter when you visit there will be something fun to do."
Reason One: First off, the Lake region is a recreational heaven. In the summer it combines hiking, biking, swimming, beach enjoyment, camping, and big coastline events during the warm days. Here is a list of all the best summertime activities in Lake Tahoe. Two of the most memorable annual celebrations to go to or attend include the annual Fourth of July celebration, either in North or South Lake Tahoe, as well as the Classic Boat exhibition in North Lake Tahoe in August or September, showcasing some of the best wood-crafted water vessels in the West Coast.
Reason Two: During the winter, Lake Tahoe has a dozen or so ski runs and lodges within one hour's drive, providing ski runs from beginner to Olympic level expert conditions. And even if skiing and snowboarding are not your thing, there is snowmobiling in the snow-covered meadows south of South Lake Tahoe as well as sledding and snow disk riding in multiple locations. The Granlibakken is highly recommended for families because it provides an all-inclusive approach with lodging, dedicated meals and snow recreation all in one place without having to drive anywhere.
Reason Three: For those who want to try their hand at luck, the Nevada side of Lake Tahoe has plenty of gambling options. The famous Cal Neva Hotel and Hyatt both provide sizable casinos in North Lake Tahoe. In the South region, there are at least ten major casinos as well, including hotel accommodations in the same facility. After gaming a good meal is often in order, and both sides of the lake have plenty of cuisine options to choose from. For a full list of casinos in Lake Tahoe visit http://www.virtualtahoe.com/Casinos/index.html.
Reason Four: At number four, the Lake itself is a major source of entertainment and fun. While enjoyed better during the warm days, South Lake Tahoe offers a number of water-based attractions. Ferries like the M.S. Dixie II can be boarded for full lake tours. There are also standard motor boat tours providing the same excursions.
Reason Five: For the automotive types, a drive around the lake will test one's ability to drive and handle curving roads. The west side of the Lake has some very interesting road sections, with one in particularly literally riding the cliff's edge and overlooking Emerald Bay. The ride is not for the faint-hearted, especially in the passenger seat. Use the Virtual Tahoe transportation guide to find your way around the Lake.
Reason Six: Fishing rings in at number six. While Lake Tahoe is an alpine lake, the water is stocked with a variety of fish species which can provide some good challenges for the sports fisher. Fishing is allowed year-round, but a fishing permit is required first before getting started. So planning ahead is a good idea.
Reason Seven: Heights and scenic views hit the seventh reason to go to Lake Tahoe. The gondola ride from South Lake Tahoe village up to the Heavenly Ski Resort is an amazing experience, even if a person has no intention of going skiing. The ride can be taken during the winter or summer, as long as the operation is working (high wind days tends to be an exception). The ride has a mid-way stopping point where folks can get out and enjoy the entire lake view before getting to the top. Or to take things really sky high try Reno Tahoe Helicopters, and view Lake Tahoe from above.
Reason Eight: Ice skating is also possible year round in Lake Tahoe. South Tahoe Ice Arena offers an ice skating rink with a very low cost, making it a great entertainment option for families as well as couples. One can even learn how to play hockey at the season rink during scheduled lessons.
Reason Nine: For reason number nine, the local South Lake Tahoe Recreation Complex is a great place to take the kids. Not only does it have video games, billiards, and games for the young ones, there is also a managed climbing wall and a warmed swimming (which is great during the winter), all for a low cost per person.
Reason Ten: Finally, Lake Tahoe in North and South has a number of notable golf locations. The largest course in South Lake Tahoe, and it hosts an annual celebrities competition during the summer. So even folks who don't golf can get a chance to enjoy the fun seeing a favorite sports or entertainment star give the sport a try. Here's a full list of golf courses in the area.
Getting to Lake Tahoe is best done by car, although visitors can fly in as well. The primary road directions are provided here. Once in town, one doesn't have to drive. Instead, reliable taxi services like the BlueBird Taxi can easily get one in and out, from location to location, and to and from the local airport as well.
So if you're out of ideas what to do for a neat vacation, consider Lake Tahoe as an option. There's something for everyone there, and it's off the typical city tour or amusement park path that so many other venues end up being. VirtualTahoe.com, a popular travel & tourism website can help, being entirely dedicated to helping visitors review, compare and find the things they need when planning travel to Lake Tahoe.
About VirtualTahoe.com:
VirtualTahoe.com, Lake Tahoe's number one online guide, provides quality information on all things Tahoe. Use VirtualTahoe.com to find information on everything Lake Tahoe from vacation lodging and casinos to ski resorts and boat rentals.