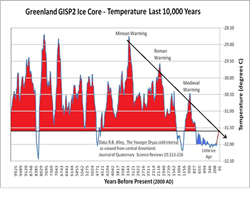 The Clean Air Act can do nothing to stop these natural climate changes, caused largely by cyclical fluctuations in the solar magnetic field.
Calgary, Alberta, Canada (PRWEB) May 08, 2014
Friends of Science ask why the recently released National Climate Assessment is not based on the September 27, 2013 Intergovernmental Panel on Climate Change (IPCC) findings that state there's been a hiatus in global warming for 15 years to 2012 (now going on 17 years) as reported in the Wall Street Journal of Oct. 1, 2013. Key Uncertainties in the Working Group III Technical Summary pgs. 114 and 115 state "Low Confidence" in future extremes.
Cited in that Wall Street Journal report of Oct. 1, 2013 is Canadian economist and longtime climate student Ross McKitrick who says…."One lesson of the IPCC report is that now is the time for policy caution."
"It seems the Obama administration is throwing caution to the wind and embarking on climate change policies that will burden businesses," says Ken Gregory, research director for Friends of Science. Gregory points to the economic and energy crises in the UK, EU and Ontario, Canada where stringent climate targets and a 'rush-to-renewables' have done nothing for the environment but have seriously limited growth.
Economist Ross McKitrick's April 2013 assessment of the Green Energy Act in Ontario, prepared for the Fraser Institute, showed renewables cost 10 times that of conventional fuel and that retrofitting coal plants would have been the smarter, cleaner and more economical approach.
"Green" Germany is suffering from skyrocketing energy prices as reported by Forbes Dec. 30, 2013. Grid instability caused by fluctuating power from renewables has caused industrial damage in Germany as reported by Der Speigel Aug. 16, 2012.
Forbes reported on Aug. 31, 2012 that Germany is building 20+ coal plants as industry demands reliable, competitive power.
The UK faces energy curfews and rolling black-outs due to lack of conventional power and instability in the grid the Daily Mail reported Dec. 20, 2013.
"In the face of evidence that global warming has stopped naturally, and the devastating economic consequences of such climate change policies as the EPA and Clean Air Act extensions, we are surprised that Americans are going down this path," says Gregory.
The American people are more concerned about jobs says a report in Bloomberg filed May 6, 2014.
"We've seen historic megadroughts epochs in the southwestern US, long before fossil fuel use," says Ken Gregory, referring to research on California's Owens Lake area by Scott Stine, described in Brian Fagan's book "The Great Warming" and the long-term Greenland ice cores, showing even warmer periods two thousand years ago. "The Clean Air Act can do nothing to stop these natural climate changes, caused largely by cyclical fluctuations in the solar magnetic field."
Likewise, historic records of periodic drought followed by heavy precipitation and flooding are also well-documented in many areas of the country, as in South Dakota, and throughout American fiction - like Steinbeck's classic "The Grapes of Wrath."
Economist Ross McKitrick will be speaking on "The Pause in Global Warming: Climate Policy Implications" May 13, 2014 at the Friends of Science 11th Annual Luncheon in Calgary. The presentation will be posted online at friendsofscience.org
About
Friends of Science have spent a decade reviewing a broad spectrum of literature on climate change and have concluded the sun is the main driver of climate change, not carbon dioxide (CO2). The core group of the Friends of Science is made up of retired earth and atmospheric scientists.
Contact:
Friends of Science Society
P.O. Box 23167, Mission P.O.
Calgary, Alberta
Canada T2S 3B1
Toll-free Telephone: 1-888-789-9597
Web: friendsofscience.org
E-mail: contact(at)friendsofscience(dot)org