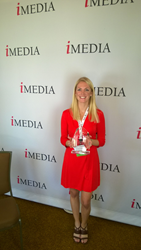 New York, NY (PRWEB) May 08, 2014
MobileFuse LLC (mobilefuse.com), the largest transparent mobile and tablet advertising network and leader in brand-focused media solutions, today announced that it has been named the winner of the 2014 ASPY Award for 'Best Customer Service' at the iMedia Agency Summit in Austin, Texas. Established in 2003, the ASPY Awards highlight the industry's most valuable technology and service companies that contribute to the growth and innovation of the industry as a whole. Winners and nominees are chosen specifically by members of the agency community.
iMedia's 'Best Customer Service' category measures excellence across a range of factors, such as outstanding sales and professionalism, streamlined billing and reconciliation procedures, and campaign management that goes above and beyond. At the core of MobileFuse's distinction in this category is its client-first approach that focuses on strategic long-term partnerships, strengthened by custom-engineered technologies that measure and optimize campaign success.
"We are thrilled to be named a winner in this year's ASPY Awards," says Ken Harlan, Chief Executive Officer of MobileFuse. "It's an honor not only to receive the award, but to be recognized as a leader and innovator in the agency community that we serve."
About MobileFuse
MobileFuse is the industry's leading provider of brand-focused mobile media solutions. Through cutting-edge analytics, precision-targeting capabilities, and some of the most sophisticated proprietary technologies in the marketplace, MobileFuse ensures that each campaign provides the highest possible return for advertisers. MobileFuse is partnered with thousands of premium publishers across multiple verticals to develop ads that reach over 100 million unique visitors. The New-York-based company is self-funded, profitable and 100-percent focused on exceeding client expectations. To learn more, please visit mobilefuse.com.
Contact
Mr. Sanjay Pothen, Chief Revenue Officer
MobileFuse
(508) 982-3382