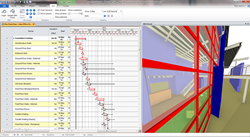 We're looking forward to showcasing these new Asta Powerproject features to construction business owners and executives at the Summit.
New York (PRWEB) May 07, 2014
Asta Development will unveil two major product enhancements to its construction scheduling software, Asta Powerproject, at the ENR+Dodge Global Construction Summit in New York City on May 13 and 14.
The Summit provides an opportunity for executives from around the world to share best practices and explore opportunities in construction. A key theme of the conference will be how firms can remain competitive in an increasingly international business.
Building Information Modeling (BIM), which uses interactive 3D models to inform project decisions and their impacts, is expected to be a large part of that conversation.
Conference-goers will be able to experience Asta Powerproject's new BIM features that drive greater collaboration and enable true 4D planning by linking project schedules and 3D models in a single, cloud-connected application that can be shared between users and other applications using the IFC4 data format.
Visitors to the Asta booth can also try Site Progress Mobile for Asta Powerproject, the new mobile app and cloud storage solution for easy progress reporting while on the job site. The Site Progress Mobile app will be available in Android and iOS versions initially with a Windows version to follow.
"We're looking forward to showcasing these new Asta Powerproject features to construction business owners and executives at the Summit," said Michael Romero, Asta's North American Country Manager. "They are the people building America day after day and the ones we built Asta Powerproject to serve."
Asta Powerproject, which now has more than 80,000 users worldwide, is a relative newcomer to the United States market. It launched in North America in late 2012 and has experienced rapid adoption by construction firms. More than 100 U.S. firms have already made the switch to Asta Powerproject.
Those firms have found Asta Powerproject to be an easier, more user-friendly way to schedule all their construction jobs. Drag-and-drop schedule building, easy importing of other file types, quick progress report building, and customizable job templates make scheduling significantly faster and more accessible for all schedulers of all sophistication levels. Flexible licensing options, including shared licenses for part-time and occasional schedulers, also save firms more than 40% over the cost of Primavera P6.
Catalyst, one of Asta's U.S. resellers and a long-time provider of construction scheduling training and support services, will join Asta at the show.
"There's been a real interest from project managers and schedulers who have told us they're frustrated with the increasingly complex Oracle Primavera," said Catalyst president Steve Sudler. "In the 18 months that we've represented Asta here in the United States, we've shown the software off hundreds of times and people are always impressed by how easy it is to use and how quickly they can be building schedules. Just wait until they see what's next."
For more information on Asta Powerproject, visit http://www.astapowerproject.com.
###
About Asta Powerproject
Asta Powerproject has become the construction industry standard throughout Europe and the rest of the world outside the United States since its initial development in 1988. It was introduced to the U.S. market in 2013. Both small and large companies including general contractors, subcontractors, civil engineering firms, clients and professional advisors prefer Asta Powerproject. More than 80,000 schedulers worldwide rely on the software every day to create and update precise project schedules, collaborate across the enterprise, manage resources and costs, and report progress to owners and clients. For more information, visit http://www.astapowerproject.com.
Asta Powerproject is a product of Asta Development plc which creates project, portfolio and resource management software. Asta Development supports customers directly from its U.K. offices in Oxfordshire and Shropshire. In the U.S., Asta Development's network of distributors supply, train and support customers. Asta Development is a part of Eleco plc, a holding company focused on software development and services for architectural, engineering and construction industries. The company is listed on the London Stock Exchange's Alternative Investment Market (AIM). More information about Eleco plc can be found at http://www.eleco.com.