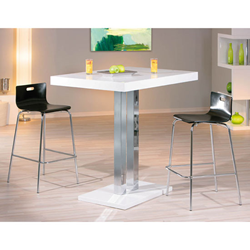 (PRWEB UK) 9 May 2014
FurnitureInFashion has recently made an official declaration about the expansion of its German manufacturing plant, to meet the demand of the clients for personalized and made-to-order furniture that rate high on the scale of durability and strength. Different complex commercial projects usually require the construction of special bespoke furniture items that match the interiors of different rooms according to the desires of the consumers. The company believes that in order to meet the expectations of the clients, a sustainable plan needs to be followed. According to this plan, FurnitureInFashion has devised a new plan to expand the area of its manufacturing unit in order to be able to supply more furniture products.
Through this expansion, the UK-based online furniture retailer is seeking to cater the increasing demand of the modish furniture that the company specializes in. This in turn, shall help the company to supply more effectively and keep an unprecedented shortage in furniture at bay. With over 90 percent of the items available in stock, this company is named among UK's largest furniture suppliers. Since the inception of the company in 2008, it has been flooded with aplenty of orders from the clients all around the globe. The fact that it has been increasing its quality of work periodically, the clients consider the company as the perfect destination for furniture shopping.
The Chief Executive Officer and the owner of FurnitureInFashion, Mr. Assad Shamim has explained the basic reason behind the expansion, says, "With a warehouse in Germany spread over an area of 500,000 sq ft. and a warehouse and showroom in Bolton Farnworth in the UK, we believe in delivering the best quality to all the customers.
"Also, we aim at fulfilling the desires of all our clients; therefore, we have planned to expand our manufacturing unit to increase our production. The fact that we do not have many international and local partners; it becomes a huge responsibility for us to handle the demands and orders excellently."
About FurnitureInFashion:
FurnitureInFashion is a veteran UK based online retail business dealer for modern furniture. It deals in furniture items manufactured exclusively at its German based warehouse and has a lavish showroom in Bolton, UK to provide furniture to its clients at one of the largest UK cities easily. The company has been dealing in a number of home décor which includes everything from umbrella stands, wall art and room dividers to bedroom, bar stools and computer tables. FurnitureInFashion has over the years, established itself as an expert in the delivery of excellent furniture within UK and has a far-reaching clientele from all across the globe. It has a fantastic customer service as well. For further information and details about the sale, visit http://www.furnitureinfashion.net.