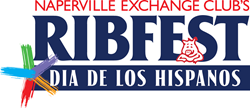 We have noticed an increasing Hispanic presence at Ribfest and want to welcome this ever-growing community in a special way
Naperville, IL (PRWEB) May 09, 2014
Naperville Ribfest announces the event's first ever "El Dia de los Hispanos" or "Hispanic Day" to be held Saturday, July 5 during the 2014 four-day festival, July 3-6, at Knoch Park, Naperville. Ribfest is sponsored by the Naperville Exchange Club and is a local family tradition of award-winning rib competition, live music, carnival rides, and fun. It annually draws nearly 250,000 attendees.
"We have noticed an increasing Hispanic presence at Ribfest and want to welcome this ever-growing community in a special way," said Don Emery, Ribfest Marketing and PR Chair. "It's an affordable, fun-filled outing for the entire family!"
On July 5, Ribfest will feature Latino music from 12-10 p.m., including a special appearance from the nationally renowned band, "Del Castillo." Del Castillo is an award-winning musical group that fuses rock, Latin, blues, and world music. Their music has appeared in soundtracks for "Spy Kids 3D," "Once Upon a Time in Mexico," "Sin City," and "Kill Bill Vol. II," and they have toured nationally with such diverse acts as Styx, Los Lonely Boys, Ozomatli, Don Henley, Los Lobos, and Willie Nelson. In addition, the day will feature Viaje, La Obra (http://www.laobramusic.com), Rio Bamba (http://www.riobambaband.com) and Contrabanda Live (http://www.contrabandalive.com). For a complete list, visit http://www.ribfest.net/hispanicday.
Family specials are available at the gate from 12-3 p.m., including carnival passes good for unlimited rides on the midway for only $10 per person and $5 pulled pork sandwiches. In addition to the rows of mouthwatering rib vendors from all over the country, the food court will feature cuisine from Sergio's Cantina, a popular Mexican restaurant from Geneva, IL. Dozens of free family events are available throughout the day including a petting zoo, inflatables, stage shows, reptiles, magic acts, and events from Disney and the Chicago White Sox.
Adult tickets are $10 per person at the gate and children under 11 are admitted free. Free off-site parking and shuttle are available. For more information, see the website at ribfest.net.
About our Sponsors
We thank them for their involvement in Ribfest 2014. Without them this event would not be possible!
Miller Lite, Pepsi Beverages Company, D&J Amusements, Navistar, Meijer, Cordina Frozen Drinks, Exelon Generation, Hollywood Casinos, Chicago & NW Indiana Hyundai Dealers, Naperville Bank & Trust/Wintrust Community Banks
About Ribfest
The 27th Naperville Ribfest will be held July 3 - 6, 2014, in Knoch Park in central Naperville. Ribfest consists of family activities, award-winning rib vendors from across the country, carnival rides, and crowd-pleasing musical entertainment. Ribfest is run by the 140+ members of the Exchange Club in cooperation with its partners including the City of Naperville and the Naperville Park District. More than 4,000 volunteers and hundreds of sponsors support the event with 100% of the proceeds from Ribfest going to support the elimination of child abuse and domestic violence.
About Naperville Exchange Club
The Exchange Club of Naperville chartered in 1987; its 140 members dedicated to the elimination of child abuse and domestic violence. Through Ribfest, the Exchange Club has donated more than $14 million to more than 50 local charities. Check us out at http://www.ribfest.net and http://www.exchangeclub.org.
For more information, please contact Hunter Byington, Public Relations for Ribfest, at 630-357-6584 or email us at media(at)ribfest(dot)net.
###
For additional information and media materials, please visit:
http://www.Ribfest.net