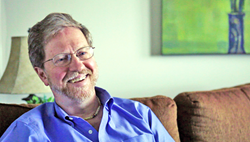 "Virgil is highly regarded in the mental health community, and is on a mission to have the greatest possible positive impact on those living with mental health challenges"
Baltimore, Maryland (PRWEB) May 09, 2014
The Baltimore affiliate of the National Alliance on Mental Illness (NAMI) today announced it is hosting a lecture and discussion led by Virgil Stucker, founding Chairman and President of the Foundation for Excellence in Mental Health Care and founding Executive Director of CooperRiis Healing Community. The lecture and discussion will be held on May 29th, from 7pm - 8:30pm at the PSA Financial offices located at 11311 McCormick Road, Suite 500, Hunt Valley, MD 21031.
A speaker known for frankness, sensitivity and humor, Mr. Stucker's talk will center on how families and employers can strengthen our community's ability to help those with mental health challenges recover their capacity for healthy relationships, create meaning and purpose in their lives, and learn how not to be overwhelmed by their challenges. Mr. Stucker will also discuss how therapeutic communities like Spring Lake Ranch, the CooperRiis Healing Communities and other members of ARTAusa.org can help those who may benefit from a residential environment. Those interested in attending the talk can RSVP to Renee Stainrod at rstainrod(at)namibaltimore(dot)org or call NAMI at (410) 435-2600.
"Virgil is highly regarded in the mental health community and is on a mission to have the greatest possible positive impact on those living with mental health challenges," stated Michael Teitelbaum, President of NAMI Metro Baltimore. In keeping with his mission, one of his latest endeavors is the founding of the Foundation for Excellence in Mental Health Care, a non-profit organization that is dedicated to improving mental health outcomes through programs that rely less on pharmaceuticals and more on engaging families and communities.
No one can attest to the power of community like Zach Snitzer, whose organization is sponsoring this event. "In my own recovery from addiction, the community around me was vital as it offered support, structure and understanding," stated Mr. Snitzer. "There was no stigma. It is this focus of community and family that is one of the pillars that we have built Maryland Addiction Recovery Center on, because this foundation is necessary for anyone recovering from substance abuse or mental health issues."
ABOUT VIRGIL STUCKER
A leader in the mental health community, Mr. Stucker worked with philanthropic founders Don and Lisbeth Cooper to open CooperRiis, a residential therapeutic "healing community" for people with mental illness or emotional distress, in 2003. The Coopers had been inspired by their family member's experience at Spring Lake Ranch in Vermont and felt moved to create a healing community in the Southeast.
CooperRiis is a modern complex on an 80-acre farm in the village of Mill Spring in western North Carolina. Based on similar therapeutic models in New England that have been in practice for over 90 years, the central concept is a living environment where staff and residents live and work together as a functioning community. To this are added the elements of modern psychiatry and psychotherapy, with an emphasis on relationship-centered care and a strong holistic component that affirms and honors the "whole" person during their recovery. Mr. Stucker, has integrated his life with therapeutic communities since 1975 when he first started at Gould Farm, America's oldest therapeutic community for individuals recovering from mental illness. Gould Farm, founded in 1913 in Massachusetts, is one of the models CooperRiis has followed.
ABOUT NAMI METRO BALTIMORE
NAMI Metro Baltimore is the local affiliate for the nation's largest grassroots mental health organization. They are dedicated to building better lives for the millions of Americans affected by mental illness, along with their families and communities. They do this through education, support and advocacy. For more information, please call (410) 435-2600 or visit us on the web at http://www.nami.org.
twitter.com/NAMI_Baltimore| facebook.com/NAMIMetropolitanBaltimore