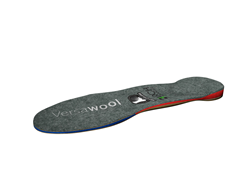 Roanoke, Virginia (PRWEB) May 08, 2014
Foot Levelers has introduced the newest in its line of Stabilizing Orthotics, the VersawoolTM featuring 100% Merino wool. Designed with premium comfort in mind, Versawool Stabilizing Orthotics offer year-round support, help regulate body temperature, fit into a variety of shoe types, and help eliminate foot odor.
Exceptional for all-season support, Versawool helps warm the body during the chilliest winter months and has a cooling effect during the heat of the summer. Merino wool has a natural tendency to absorb water but at the same time retains warmth while wet, keeping the feet warm in the coldest and wettest of conditions.
Another feature of Merino wool is its natural ability to wick moisture, which benefits wearers of all different shoe types, athletic shoes included. Often found in premium athletic apparel, Merino wool also features lanolin, which has antibacterial properties; that plays a large role in eliminating foot odor.
In addition to its top cover made of Merino wool, the Versawool Stabilizing Orthotic features Foot Levelers 3 Arch Advantage, the 60-year design that supports all three arches of the foot. Designed to support the body from the ground-up, Foot Levelers 3 Arch Advantage provides a foundation not found in any custom-made or over-the-counter orthotic or shoe insert.
Foot Levelers, Inc.
Foot Levelers, Inc., the world's exclusive provider of individually designed Stabilizing Orthotics and other therapeutic products, has been serving healthcare professionals for over 60 years. Foot Levelers supports every step patients take to enjoy fuller and happier lives at work, home, or play.
Visit FootLevelers.com, like us on Facebook, and follow us on Twitter (@FootLevelers) to learn more about Foot Levelers, Inc.